A dedicated gear is necessary to improve your work, whether you are a passionate runner or a professional cyclist. It is always good to have the proper gear, so you improve your fitness level, speed, and distance. Having fun apart from the routes is also to expand your cross-training or adventure. With that in mind, we bring the best watches for running and cycling. Indeed, a watch can help you to keep your fitness level at the edge. It tracks all of your moves to get the best experience regardless of tracks.
Best Watches for Running and Cycling Reviews
On a serious note, you have to look more in detail. A smartwatch should have all the features that are mandatory for you. It should have GPS tracking so you can track different routes. It must have HR monitoring features that help you to maximize your fitness level. Also, pace, distance, calories burned, steps are taken, and other features are necessary. If you are looking for a full-featured watch, then scroll down to make a good purchase. We assured you will never regret your choice.
Coros APEX – Best Multi Sport GPS Watch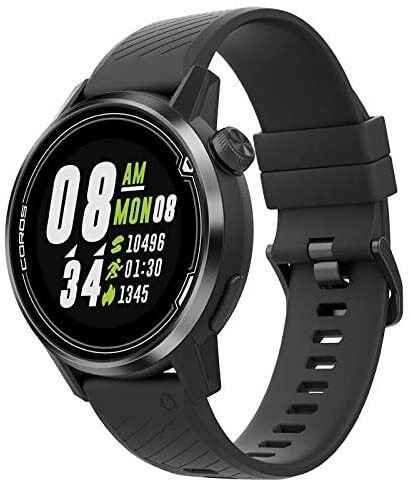 Specifications
• Titanium alloy bezel finish with sapphire lens
• 100 hours on Ultra-max mode
• Built-in wrist-based HR
• Digital Knob

The Coros APEX Premium Multi-Sport GPS Watch is a mini package with unique features. There are lots of precise multi-sport modes and long-lasting battery life. The standout thing is blood oxygen monitoring. Along with it, there are five screens available while doing workouts. It ensures you will get the best compatibility with ANT+.
Are Activities Tracked?
It tracks a lot of activities such as running, cycling, sleeping, energy consumption, workouts, floors climbed, and more. With lots of displays, you can choose your favorite face for you. It doesn't count everyday tracking. Even HR is only working with the exercise duration.
Design
It looks clean and modern in its first look regardless of which occasion you wear it. With a digital crown, it has a single button. It provides easy operation and more precision. The rugged construction makes it strong. With a large face, it is readable from any angle, so you can view it while running on roads and doing workouts.
Not only that, it allows alerts that you can read within seconds on its black background and white text. It is comfortable to wear by providing you with a snug fit. Also, the silicone bands are removable. It doesn't make you sweaty and easy to clean.
Advanced Features
Lots of competitive features are included in it, such as Vo2 Max. It also features lactate, threshold, and other training intensity metrics. There is a built-in wrist-based heart rate monitor, compass, barometer, and altimeter. Along with it, it has a digital knob to do easy operations. It allows you easy control with a single finger.
Did you know? The APEX provides 3rd party training platforms. It includes Relive, Final Surge, Runalyze, TrainingPeaks, and Starva.
Recommended Read: Best Training Apps for athletes
Moreover, you always stay fueled and hydrated. It is because of the nutrition alerts. It will alert you when you have a long run.
Best of all, there is an AI trainer. It keeps the body safe from injury, either you are doing aerobic efforts or anaerobic.
Compatibility and Battery Life
You will get Bluetooth and ANT+ compatibility on your smartphones. As far as the battery life is concerned, it offers you long-lasting service for GPS tracking, Backlight, Daily HR, sleep, and more.
Lastly, It runs up to 35 hours in GPS mode and 30 days on daily use for smartwatch mode.
---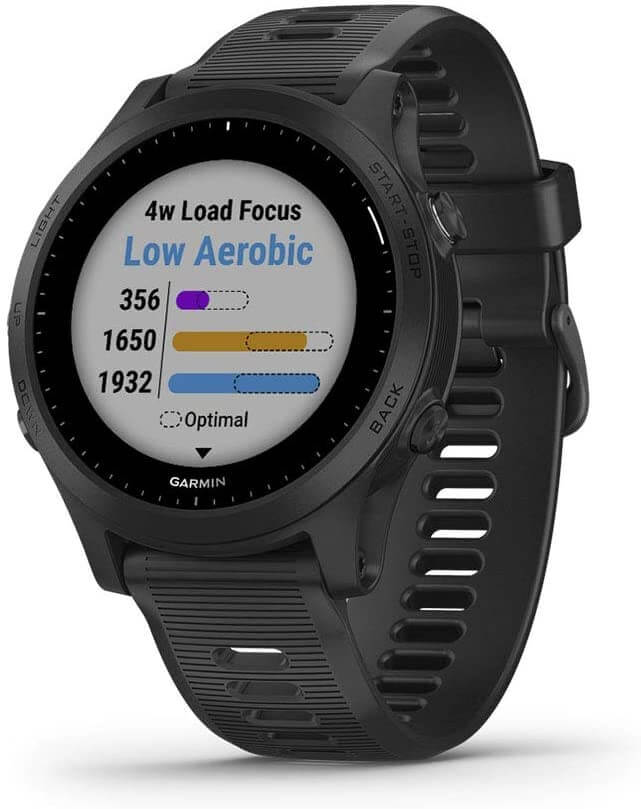 Specifications
• Waterproof
• HR monitoring
• Excellent compatibility
• Outstanding battery

The Garmin Forerunner 945 comes with simple operations, so recommended for those who don't want to mess around. This watch offers great training analysis in-depth, regardless of whether you are a triathlon, runner, or any athlete. It does provide to excel in all sports.
Are Activities Tracked?
No doubt, it tracks all the activities that you can expect from a smartwatch, including running, cycling, anaerobic or aerobic.
Design
This smartwatch has a low weight with a plastic frame. It uses a sleek approach in its design. The slimmer design looks gorgeous on the wrist. It is made of premium construction and offers high resolution. With a round dial, it has a large screen that lets you view and read easily.
With solid material and stainless steel casing with sapphire, glass combination makes its appearance next level. Along with it, it has QuickFit silicone bands so that you can attach or reattach super fast with no hassle.
Not only that, there are lots of varieties available for bands. You can choose nylon, leather, metal, and titanium. Further, it has up to 5 push buttons and a screen light toggle button. Hence, it provides adequate readings and stats.
Advanced Features
There are so many smart features offered by it. It will excite most of the users who are craving for training analysis in the core. It displays who much time you have to spend in workouts regardless of anaerobic or aerobic zones.
With the pulse oximeter sensor, it takes your acclimation for extreme conditions. all of these activities are tracked with high precision. It won't drop you either if you are indoor and outdoor. It will track your activities accurately.
For advanced features includes blood oxygen levels, VO2 max, steps, floors climbed, and more with a nice gimmick battery. WIth full-colored on-board maps allows you to don't lost during long trails.
Garmin Coach will help you while workouts depend on your progress so you can improve your health.
Compatibility and Battery Life
It provides excellent compatibility with paired devices enabled Bluetooth tech, and you can listen to up to 1,000 songs.
Last but not so far least, it offers a battery of up to 2 weeks on smartwatch mode, 10 hours on GPS mode, and 46 days with Expedition Mode. Indeed, it has been greatly improved.
---
Specifications
• Elevate wrist HR technology
• Garmin Connect online fitness community
• Connect apps from our Connect IQ store
• Automatic uploads to Garmin Connect

Lastly, we have the Garmin Fenix 5, beating the performance of all the best smartwatches for running and cycling. It has premium construction with outstanding features. The wrist-based HR monitoring, interchangeable bands, multi-sport tracking from workplace to workouts makes it unbreakable. It doesn't need which sport you want to track, it got you covered from all sides.
Thanks to its built-in memory, activity profiles, and metric plus, that makes it the best purchase for running and cycling.
Are Activities Supported?
This Garmin watch supports all the activities such as running, cycling, skiing, golfing, and other sports. It features smart notifications, automatic uploads, so you never miss out on your Garmin Connect Online fitness session. It ensures different materials for each sport so you will get precise results.
Display
It has a clean, easy to ready and outstanding display. It offers great visibility regardless of the harsh sunlight. Also, it uses transflective technology, which means it provides reflection and light at the same time. With bright resolution and great display, it has the power to resist all ambient conditions. For durability, it has stainless steel bezels and rugged construction. There are buttons, and a rear case makes your adventure great.
Best of all, its screen uses a Garmin Chroma display. It has LED backlighting, so you can always view time regardless of the darkness. For the bands, it has silicone QuickFit bands. These bands offer extra support to your wrist. There are WI-FI capabilities to upload your activity results automatically.
Advanced Features
There are plenty of features that make it the best smartwatch for running and cycling. It includes GPS and wrist-based HR monitoring. It provides you with great metrics and precise results. There are both basic and advanced features included, such as has 3-axis compass, altimeter, and barometer. With outdoor sensors, it has GPs and gets notification alerts. For this regard, you have to connect it with Garmin connect online. Also, there are lots of customization options available. Such as, the Quickbands allow you interchange, and you can choose premium leather, silicone, or metal material.
For more advanced features, it is providing physiological metrics. You will also get the readouts in detail of both aerobic and anaerobic exercises. Furthermore, it has a Vo2 max estimate to let you know about the HR per minute.
Compatibility and Battery
When it comes to compatibility, almost all Garmin watches provide great compatibility. This watch also provides Bluetooth, ANT+ compatibility. The battery life is also amazing so that you wouldn't worry about anything. We have reviewed so many users that are satisfied with its stunning battery performance.
---
Polar M430 – Best 24/7 Activity Tracking Watch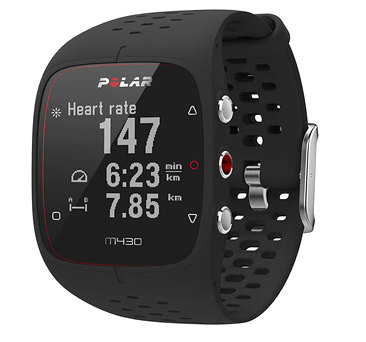 Specifications
• GPS enabled watch
• Optical HR monitor
• 6 LED optical sensors
• Monochrome display

Next up, we have the Polar M430 GPS Running Watch, which is seriously manufactured for runners or cyclists. It has an updated version of Polar M400 with excellent featuring. The wrist enabled GPS. It offers blast performance against training and lets you get great benefits, recovery analysis, intervals, and vibrate alerts. Indeed, it is a competent choice for the best smartwatch for running and cycling.
Are Activities Tracked?
Yes, activities are tracked 24/7, such as running, cycling, sleep, training, and more. There is a dedicated feature for runners, training load, recovery status, and more. With the advanced smart coach featuring, it shows the training data and efficiency of running. After each session of workouts, it provides immediate feedback so you can enjoy training benefits.
Design
At first glance, it looks bold. The rounded square face has Flexi silicone straps. Apart from the module design, it is very comfortable. There are vents, so you have less sweat. Further, There are three vibrant colors available to choose from.
It brings sports to feel but luxury. The construction is waterproof up to 30m. It means you can swim or shower. Moreover, it allows you to see on the screen with most ease regardless of weather conditions. Even it never left you a darker environment. With this regard, it has an option to invert the display and the backlight makes viewing easy.
Advanced Features
Unlike other features, it uses different GPS technology. It is a wrist-enabled GPS that uses SiRF Instant Fix Satellite prediction technology. It provides a map view of the Polar Flow app.
There are up to 6 LED HR sensors, so you can conveniently get stable and accurate data.
Furthermore, it has two options, such as manual lapping or auto lapping. Also, you can do training programs, and you can customize them as well. It provides daily updates. It shows you interval running, pace, lap, distance, time, and HR.
Besides that, it also featured an exercise mode and customizable faces available.
Compatibility and Battery Life
It is compatible with devices, H7 HR Monitor strap, and Polar H10 to get precise accuracy. For the battery life, it runs up to 30 hours, while on GPS mode, it runs 13 hours. However, if you want to track your activities only, it will last up to 20 days.
---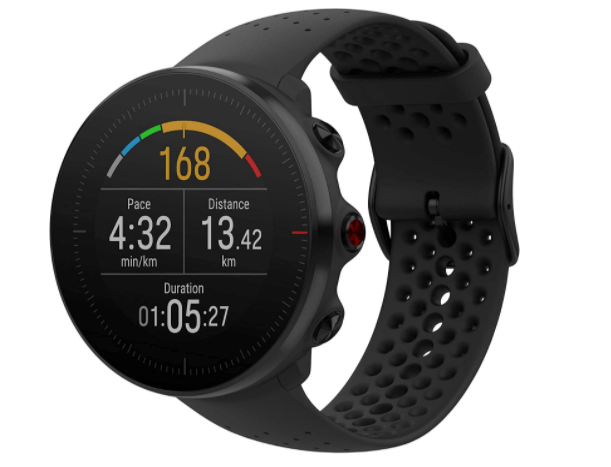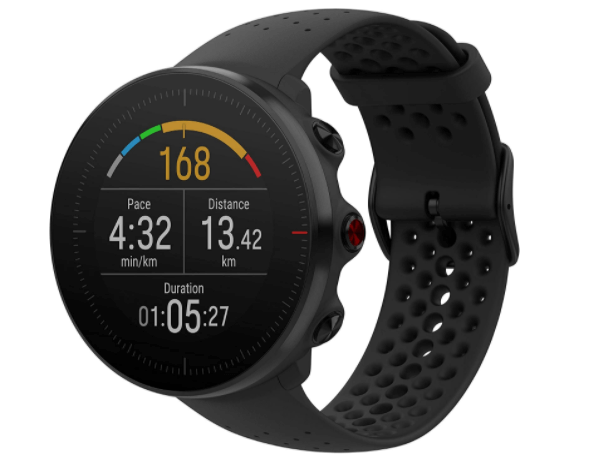 Specifications
• Ultra-long battery life
• Comes with polar prime HR
• With training load pro
• Great functionality for multi-sports

The POLAR VANTAGE M has a cool design for both men and women. It is a multi-sport watch that comes with Polar's technology, which is called Sensor Fusion. It ensures the most accurate tracking for your workouts, including running, cycling, and more. This watch supports over 130 sports. It can also monitor heart rate.
With all the best smartwatch perks for running, it allows tracking long distance, running, watching, biking, swimming, pace, and more. With it, you are compatible with any cycling accessory.
Are Activities Tracked?
This smartwatch has the ability to track your activities such as swimming, running, biking, and more. It also provides the key metrics of swimming stroke as well as pace.
Design
It has a detailed display which shows you time and relevant information clearly. It provides activities such as status, cardio, latest training sessions, and HR monitoring. For added convenience, it allows easy to scroll down operation. You can choose any face between analog or digital.
It is made of high-quality material that gives a sleek look. Its rounded face offers you to get details of steps taken, active time, calories burned, etc.
Advanced Features
This watch monitors the cardio load as well as a perceived load so you can achieve your fitness goals. It lets you know how your training session is going. It also tracks your sleep and ensures you won't get injuries and overtraining. To get previous results, you can make your sleep better.
It is using the Polar Flow platform, which you can get on your smartphone to track all of your workouts. It lets you analyze your previous progress. There are several training programs included, such as Strava, training peaks, and more.
Furthermore, it monitors your heart rate right on your wrist and is also GPS enabled. It ensures you an accurate reading for speed, distance, route, and more or cycling and running.
Compatibility and Battery Life
When it comes to compatibility, it is supporting Polar BLE heart rate sensors and devices. It features a rechargeable battery life that runs up to 30 hours on training mode, including GPS and heart rate monitoring since it is waterproof so you can also wear it while swimming and get distance, pace, strokes and rest time besides HR.
Overall, this watch gives you excellent data tracking for a triathlon, swimming, cycling, running, and more. With time, it tracks your performance properly.
---
Suunto 9 – Best Running & Cycling Smartwatch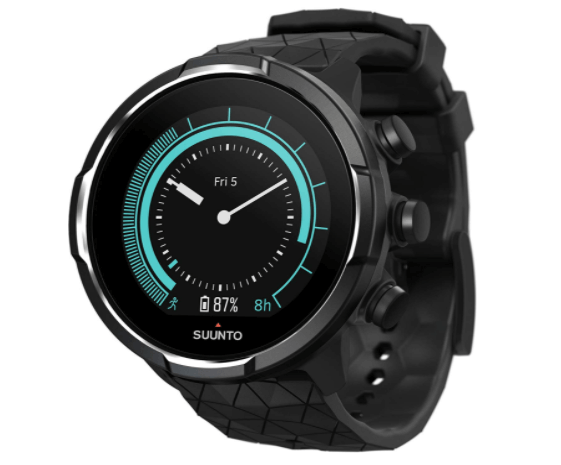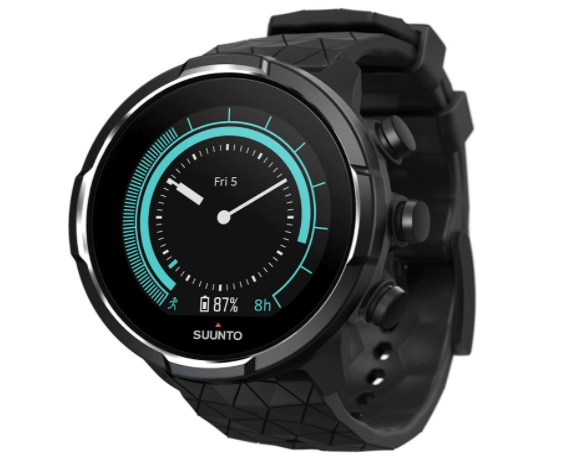 Specifications
• Streamlined multi-sport design
• Great performance battery
• 120 hours of continuous tracking
• Intelligent GPS

The Suunto 9 GPS Sports Watch offers the best performance in the battle of running or cycling. It brings a huge amount of features with a whopping 120 hours of GPS tracking. It boasts of an intelligent power management system. There are alerts and Suunto's new flagship and alerts to solve problems of running.
Best of all, it has 80 sports modes, GPS navigation, optical HR, and other pop-ups. Also, it is made of strong material that is perfect for runners.
Are Activities Tracked?
It tracks the number of sports, both indoor and outdoor. You can use it for cycling, running, swimming, and triathlon. Not only that, but it also lets you count the distance, steps, pace, calories, and much more.
Design
It has an appealing design with a big face and a little thicker. There are sharp plastic edges that make it vibrant, but it isn't natural. With a bright touchscreen, you can easily view the face. There are graphics with pretty easy to read and eye-catching so that you will get high visibility.
For a better experience, some locks prevent miss-press. It will work after pushing its button. Apart from it, you will take some time to get used to its display. It allows you nice details about every workout, such as pace, time, HR, built-in barometer, and more. Moreover, its material is water-resistant up to 100m.
Advanced Features
The FusedSpeed feature helps you to get precise results when GPS data enabled. One of the biggest gripes is, it helps you with ultra power saving. Either the GPS location is logged automatically every 120 seconds so you can have an accurate readout. It might not be reliable for long trails, but it is more stable.
The easy to understand features include pace, distance, and heart rate. As far as accuracy is concerned, it is solid for 24/7 hours of either workouts and track when it comes to performance and endurance power states.
Besides that, it has a Suunto app, which provides pretty basic. It shows workouts, topography and more.
Compatibility and Battery Life
It provides great compatibility with smartphones, and the battery life is great. There are lots of modes. It runs up to 25 hours. At endurance mode, it runs 40 hours. It also provides ultra mode on its battery that runs up to 120 hours.
---
FAQs – Best Running & Cycling Watch
The Conclusion
All in all, we have provided the best watch for running and cycling so you can track your sport and get the actual results to improve your performance to the next level. It should be noted that a dedicated watch will help you as an instructor. With this regard, we have provided the best choices. Best of Luck 🙂