If the year 2021 has taught us anything, it is that health is a top priority. Good health depends on good nutrition and moderate exercise. It can be hard to maintain when a person loses track of them and is soon demotivated to continue with a healthy lifestyle. Let's be real; it happens to everyone, even the buff and fit athletes you look up to for inspiration.
If you are a fitness enthusiast, an athlete, or getting serious about your fitness, polar grit is just the right tool for you. It is an all in one fitness tool with features that range from studying your profile to planning your workouts and meals. Not only that, it has many features that make it the only tracking tool that you would ever need in your health and fitness journey.
Polar Grit X – Best Multisport GPS Watch
Finding the perfect triathlon watch for you can be as difficult as finding yourself the perfect gym partner. You can choose almost anyone, but only one watch would give you the best comfort and feel than the others. Well, maybe not so much, but it's still pretty darn important to get yourself the perfect triathlon watch for your physical needs.
The choice can be hard to make, considering the different brands out there, with all of them claiming their watch to be superior to others. However, one clock stands above all of its other competitors in aspects of triathlon, running as well as keeping up to today's GPS and quality standard. The Polar Grit X engraves itself a spot in possibly being Best Triathlon Watch 2021, which can sate almost all of the customers' needs with its numerous features and withstanding structure that can match even the strongest elements out there in the wild.
Why is it the best triathlon watch?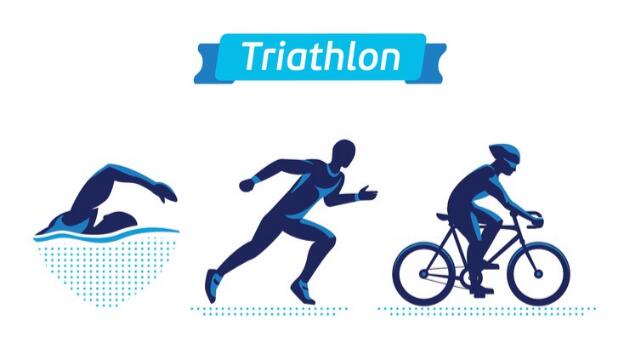 A triathlon, for those who are not familiar with the word, it implies an endurance multi-sport involving activities such as cycling, swimming, and long-distance running. In colloquial terms, it means the ability of a person to go through all of these grueling physical tasks. Your typical casual watch will not be able to work after going through several of these activities, and carrying a phone carries its own risk of irreversible damage to both the phone and your wallet after your phone gets damaged.
For all of these tasks, a person requires something capable of handling all the extras and helping with features akin to a phone to avoid the awkwardness of going through their tasks without digital help, which is something beneficial when you're on quick go.
Moreover, Polar Grit X is designed to overcome the sheer force of these activities by battling it with its sheer tenacity while still maintaining a degree of design. You don't feel as if you are carrying a specialized brick.
The watch can withstand the water test with its distinct resistance to it, which can go up to or, in this case, deep underwater to almost 100 m. It's sturdy yet comfortable to wear courtesy to its silicone strap with 22 adjustment options and a more than premium textured finish.
Its 47 mm diameter with a stainless-steel casing does not feel overly chunky or troublesome at all. Adding to that, the reinforced polymer backside of the watch helps in keeping the weight down to 64g, making it a doll to carry around without having to worry about your wrists swelling after your extensive physical workouts.
Lastly, on the front of the watch where it matters the most is a 1.2-inch color touchscreen market with a black frame and hidden time markings. Although the display falls short in comparison to other smartwatch screens, it's undeniable that it performs its duty out-doors more adequately, which in the end matters the most in terms of our triathlon activities. You can assess it even in the most intense light environments, i.e., the sun outside with backup backlighting, including just in case your morning jog time got extended from morning to midnight.
Five textured buttons spaced proportionally, and a fantastic response time makes it ideal for accessing even in mid-work-out due to its highly logical layout. Its interaction with the physical buttons is so smooth that the imprecise nature touchscreen of other watches essentially becomes an after-thought.
The Polar Grit X outdoes itself in the multi-sport field, with more than 130 disciplines available, with 20 of them being stored on the watch at a time. It serves the best day-to-day statistics, i.e., sleep and accurate recovery insights with in-depth analysis that exceeds simple step counts like in other wristwatches.
Why it is the best running watch?
What makes a watch running worthy? Instead, what makes a wristwatch the best one for your running endeavors? Aside from its glamorous design, which a person wants to show off while running, the most significant point for it to be running worthy might be the on how activity tracking able it should be.
Concerning that, Polar Grid X is more than exceptional and accounts for almost everything you would need in your outdoor adventuring activities. As mentioned above, it is day-to-day tracking, recovery insights, and in-depth analysis. They are second to none with other aspects of the watch, accounting for its excellent reliability and resilience in the running field.
With several monitoring applications like training load pro, fit spark, nightly recharge, and sleep, plus with other tools that monitor your running, rest, and sleep intake, the Polar Grid X doesn't fall short in both its day-to-day support.
The Polar Grid X provides a built-in Precision Prime West monitor that uses skin contact and optical sensors for a consistent pulse reading. Moreover, it also acts as a perfect heart sensor for you, which is essential in almost any physical activity, especially running. However, the option to attach a compatible chest strap is also available. Still, the in-built feature is more than optimal for the job.
In actual practice, the heartbeat reading taken by the polar grid was consistent and accurate, for the most part, with a rare unrealistic spike of heart readings a couple of times. Rest assured, the Polar Grid X is exceptional at its job and would be more than enough for your running needs.
Additional unique features such as the Hill Splitter, Fuel Wise, and Komoot route guidance, and Hill Splitter automictically detects and descends while also displaying in-depth details of each respectively and accessing performance on long runs. Its only shortcoming might lie in a little inconsistency when it takes in the required ascends and descends and is prone to error a bunch of times with even out-right skipping some information.
On the other hand, Fuel Wise covers the shortcomings of Hill Splitter for the running lovers out, thereby providing an activity history, duration of a run, and even a live heart rate. It also has a smart fueling assistant, which aims to help you maintain your energy levels with timely reminders to rehydrate and consume carbs.
Granted, it cannot account for your physical state at almost all giving times, but it is a fascinating attempt at an intelligent application that aims to assist the long-running friends out there. Lastly, the Komoot app aims to help runners by allowing you to sync your watch with the app and provided a determined route to follow. The only fatal flaw that puts off many users is both; you are constricted to the patch laid out to you and can not deviate it from it, and there are no offline maps.
How it has the best GPS functionality?
Polar Grid X provides one of the best GPS functionalities up to date. Not only is the battery life super convenient with up to 40 hours of GPS enabled tracking, but you can use additional power-saving options to extend the up-time even further.
It supports both GPS, GLONASS, and even assisted GPS to allow for fast fix times, which is super convenient for all the running friends out there. Although the battery life with GPS enabled is not the best, using the GPS such as the Komoot app a bit difficult.
However, it is undeniable that the GPS features of this device are more than adequate for use and, combined with a plethora of other fantastic features, make this watch one of the best if not the best in this decade.
General Overview (A condensed form of all the information stated above)
Up to 40 hours of battery life with maximum GPS/HR mode
Includes a barometric altitude, descent, ascent, and incline
Weight: 64g
Supports GPS, GLONASS, and Assisted GPS for fast fix times
Stainless steel casing with 47 mm diameter and 13 mm dee
Design and Features
There are many features in this watch, which make it a must-buy. It has an easy to work with design and is not too sweaty and heavy on the wrist, so you don't have to worry about that at all.
Design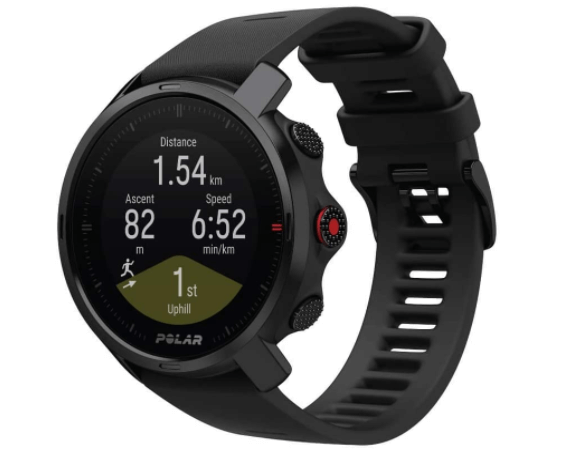 Its incredible features include its design, which is that of military-level durability. It is resistant to severe and extreme temperatures, water, humidity, heat, and cold. It also gives you a two-day weather forecast as well, so you plan out your hikes and out-door workouts properly. If you think this watch cannot bear the miles long hill hikes, think again! Its endurance to different weather and water makes it a perfect look to track all your progress.
Stylish Outlook
The design of the watch is solely for your convenience, along with style. Who says beauty is pain? It has a 47mm stainless steel case with a fiberglass display with a 1.2-inch color touch screen encased in a sleek black frame.
It is very light on the hand with adjustable and interchangeable straps. You'll be running for hours and not feel a thing on your hand, unlike tacky sports watches, which get sweaty and achy in a matter of fifteen minutes, spoiling your mood to work out.
GPS and Komoot
This watch is a supporter of the light-packer agenda because this comes with a built-in GPS and compass system that helps you track your routes. Also, freeing you from the extra maps that you'd have to stuff in your bag. Otherwise, the Komoot feature allows you to keep track of pre-planned tracks and never get off track. It will remind you and instruct you accordingly. This way, you can go to new places safely without the fear of getting lost, like in a zombie apocalypse movie.
FuelWise Feature
Now I'll tell you about my favorite feature, which is the FuelWise feature. It analyses your profile and then gives you reminders to eat whenever required and gives you suggestions about portions that would go ideal with your workout. It can be a real lifesaver for people who write down and schedule their meals and never keep up, googling everything, and then getting fed up and quitting the lifestyle. Polar grit just took away that excuse, so get back to it, pal.
Hill Splitter
A super cool feature is the Hill Splitter; the name is intimidating like a WWE wrestler, but it is no less. It tracks whenever you take a route on an incline or down a hill.
Monitoring System
The watch monitors your heart rate and intensity according to these inclines and tracks your pace. It is a real game-changer because you don't need all these different tools to measure your miles and then find out how our performance has been. It is as easy as a piece of cake. Wait! Don't eat cake right after that fantastic workout. Wait for your cheat day; surely your fuels will help you with that.
It can even track your sleep and comfort level, and you'd know the difference of days you had a good sleep, making you choose that routine. This watch simply makes you a better person.
Get Better Workout Direction
Clueless on what type of exercise you should do? Not everyone can train and workout like basketball players. It is expensive and time-consuming. This watch can be your affordable tell-all consultant, customized to your body and your needs.
One of its features is how accurately it tracks your running and our workouts. It keeps track of the distance you have covered, the pace you, the calories you burned, your heart rate, and other important vitals. It is more like a friend than a judge of your performance and doesn't beat you up about it like your gym trainer but suggests you exercise through its Fit Spark feature to improve your performance. Once you agree to those suggestions, you can add them to your schedule.
It tracks all your physical activity, from walking around the house and doing chores to doing a high-intensity workout. It sets these small goals and levels that emphasize intensity. The greater your activity's power, the more goals you've achieved; This is an excellent motivation for a fitness enthusiast who loves challenges. It's also equally beneficial for newbies. It also reminds you to be active with notifications when you lag a little and stop physical activities, keeping you from abandoning your goals.
You can also get notifications directly to your phone. However, you cannot respond to them, but the alerts are calm and keep you aware of your plan.
Food and Sleep tracking
They say fitness isn't a hobby, it's a lifestyle, and they say it right because you can't just do a 2-hour workout and follow it up by eating poison junk food, staying up late, and kicking your progress. This watch will keep you disciplined by reminding you to eat with the correct portions according to the workout you've done or will do that day to make the best of it.
Don't be worried about scheduling and getting frustrated by writing down every macro and calorie when your Polar tells you when and what to eat, while also handing over the anxiety-inducing control to your little friend to handle it. However, some users feel that the watch gives one too many reminders to eat, which cannot be turned off with the 'I've already had my meal' button, which unfortunately isn't there. Still, it is a minor issue at worst; it only buzzes for a couple of minutes before the time-lapse of that meal is over.
Polar grit is known for its sleep tracking. Not only can it track your sleeping hours but also your comfort levels while you sleep.
The REM and in-depth sleep tracking are very important to know how much rest you are getting mentally. You'd know exactly how much your autonomic nervous system has rested and how much calories you have burned in your resting caloric burn stage with sleep. The model keeps all your vitals in a record, so if there is any abnormality, it will instantly diagnose it and allow you to make the necessary changes to your night routine.
Long battery and Reliability
One of the most notable features of the Polar watch is its long-lasting battery. It works for about 40 hours while continuously tracking your workouts, meals, and sleep. If you turn off the GPS tracking, you can even run it for about 100 hours without recharging it. I know that it is unbelievably amazing that you can go through 5 days a week without recharging your device. It has many other features that make it the perfect watch, such as its Komoot tracking of ways.
You can plan out your route and then track your way without getting lost; the slight problem is that you need to buy a komoot subscription along with it. However, if you are a rebel and don't want the watch to tell you which way to go, then the GPS and compass are good enough to help you on your way to your fitness destination.
The watch has a touch screen and a five-button system on the side of the clock, so you can work with it if you don't want to use the touch screen. Workouts can be sweaty, and who'd touch a screen with sweaty fingers, right?
Final Remarks
Although it is designed as a sports watch, its tenacity makes it even withstand stronger physical pursuits. The Polar Grit X provides an awe-inspiring suite of tracking smarts and tailored training aids, making it a fan favorite amongst the ever-expanding smartwatch community. Experienced endurance athletes might be slightly upset with the less than perfect battery life of this fantastic watch, a little lack-luster hill splitter feature, and lack of offline maps. Still, it serves to be an excellent option for any outdoor enthusiasts wanting the best choice of smart-watch to accompany them in their extreme and straining physical activities.