Garmin Forerunner 235 Review | Best GPS Running Watch
Are you looking for a watch that is high on features and low at a price? A watch that includes every premium feature a runner could wish for? Well, you've just landed in the right place. In this particular article, we will give you a detailed Garmin Forerunner 235 review. This device takes the boundaries of running and watches an extra mile by doing more than just keeping track of your heart rate and time.
Although it's been quite a while since the introduction of this model, the Garmin Forerunner 235 still keeps up with most modern devices of such categories, especially with its advanced GPS and HRM feature. Want to know more? Let's dig a bit deeper and talk about the best smartwatch for runners you can get your hands on right now!
Well, before we dig deep into the detailed review of Garmin Forerunner 235, It's important to walk you through a brief background of this model.
This model was introduced by the brand back in 2015 as a successor to the Garmin Forerunner 225. Although Garmin introduced this model pretty quickly, Garmin introduced some features that they forgot in the last model? We say this because of the changes that aren't significant.
The only significant changes we see in this model are the introduction of Wrist-based HRM, making the heartbeat reading comparatively more straightforward. How? With optical light monitoring your blood flow. However, on the one hand, where it removes the hassle of the chest strap, it also has some drawbacks — for example, the interference of external light rays.
So make sure you hold it tight to your wrist. Moreover, the HRM system is also affected by dark skin or tattoos. Nevertheless, the chances of inaccurate reading are minimal. So giving you a quick-check, if you want a technologically advanced running watch with comparatively attractive features and are willing to pay a bit more bucks, you won't regret your upgrade!
Now let's move to all the tidbits you should know about Garmin Forerunner 235 that makes it preferable over its predecessor. Starting with the key factors:
Design
The design is pretty much the same as the previous model in the line, however, with slight modifications that set it apart. For example, You get a comparatively bigger display of 1.25-inch diameter in the Garmin Forerunner 235, but the good part is, it weighs way less than its Garmin Forerunner 225 counterpart. Moreover, there are three color combinations: black and frost blue, black and red, and black & grey. To be fair enough, even on a budget, it's one of the most stylish running watches you can have right now. It is also waterproof at up to 50 meters, and there's a heart rate monitor situated on the Watch's ventral side! But oh, there's no touch input! Is it a problem?
Features
While talking about the features, this watch is way ahead of its time, and that's why it's still relevant. What are they? Why not just tell you one by one? So let's get on with it:
Battery Life
This model's battery life is slightly better than its predecessor, with over 1-hour extended duration, with all features fully functional, including the GPS and the new HRM feature. Also, given that this watch has a more prominent display, even one hour is quite advantageous. At least edgier when compared to its price-range competitors. However, let's be honest here. It's still not what we would call "too-good."
Advanced GPS
The Garmin Forerunner 235 features an extremely accurate GPS known as GLONASS (a german alternative) that keeps a record of your movements and the total distance covered. It proves to be highly beneficial for runners — especially tracking you down in areas where standard GPS might be limited. So, no matter if it's a run on the trade mill or your regular running session, you can always have a look at your performance and position.
Excellent Data Tracking
What's the purpose of a running or exercise watch if it doesn't monitor your fitness record effectively? Well, we admire this model, for it doesn't lack any aspect related to your fitness. Apart from having a distance, time, and pace monitor, it effectively monitors your calories intake by keeping track of it. You'll be more conscious about what you eat, how much you eat, and how many calories you burn!
Smart Alerts
Can anyone expect a watch from 2015 to be pushing notifications from the phone? There you are! The Garmin Forerunner 235 has this feature. With this watch on hands, You can not only see your phone notifications. Still, you can also do activity tracking, get audible vibration alerts related to time and distance covered, and also use the autopause feature, just as its last counterpart. However, phone notifications are relatively new and even advanced for its time! Quite handy even today, don't you think? All you need to do is press the down button and cycle past the fitness tracking records. You'll see everything as you scroll past!
Workout History
Among many great features, the workout history tends to be one of the most awesome ones since it keeps track of your past 200 hours of workout history. It helps to effectively make adjustments in your training pan just if you lack in certain areas. Moreover, personal records will help you analyze and monitor your training plans quite effectively. Just what you can expect from the best GPS running watch.
Training Features
Here comes the central section of how this unique gadget helps you in your training. Well, we will highly recommend it to fitness geeks who love to live on minimalist ideas. Why? Because this watch has just what it needs to be a perfect training partner, despite its old release date. Talking of its training aids for runners or cyclers has interval workout plans to help you in your challenging exercises.
Moreover, the customizable workout plans might also come in handy. The race predictor feature will automatically tell you how much distance you can run, based on your records. And guess what, there's a recovery advisor who will tell you how much time you need to move for your next exercises.
Sync Options
The best thing about Garmin Forerunner 235 is that you can connect it to any data transfer device. For example, you can download all your activities to your computer while allowing you to instantly share your results on Facebook or Twitter through Garmin connect. Apart from that, you can quickly get all your phone notifications through this watch, as mentioned earlier. Just make sure you keep your phone near the device!
Other Exciting Features
Although it's a watch solely design to accompany you on the run, the company still kept some of the basic needs into account and included standard watch functions as well. For example, it shows you time and day as well. Moreover, you can set alarms while fully taking advantage of the stopwatch and music feature (synced with a phone). There is also room for Garmin apps that significantly add to the watch's functionality for additional usability.
The Downside
Well, with all the good-goodies, this product also falls short in some areas. As the review is entirely unbiased, now we will move to some points where this model lags so that you can decide better whether this product is good enough for you or not? So let's jump into the low points of Garmin Forerunner 235:
Accuracy Issue
On the one hand, where the HRM feature adds to the gadgets price tag, which is preferably the most advanced feature that sets it apart from the previous model in the line, it also proves to be its biggest drawback. Unline the old conventional heartbeat sensor with chest-strap, this system tends to be highly unstable and hugely disturbed by the light factors, resulting in relatively inaccurate readings. Also, its readings seem to be faulty when the heartbeat rhythm fluctuates. Although most reviewers call it "OK," there's still room for buying a chest strap that is compatible with your watch. Like, no doubts are better than some doubts, don't you think?
Durability Concerns
In terms of durability, Garmin Forerunner 235 doesn't seem to be extraordinary at all. This means, just like any average watch, you cant only expose it to harsh factors. For example, if you take it out in cold weather, the probability of inaccurate readings increases. Apart from that, the material used can tolerate any sort of wear and tear. To conclude the durability factor in simple words, it's just an average watch, just like any other falling in its price range.
No Touch Screen
Well, there is no touch screen, which makes it fall behind its competitors. However, this isn't what we would call a problem so significant, as the successive models after that in the forerunner series doesn't have this feature either. But wouldn't it be great to make things more comfortable rather than doing it with complicated buttons? Nevertheless, the experienced users might not have any issues with it; newbies will struggle with the interface. So make sure you have a better knowledge of button controls before you buy this watch. Other than that, Forerunner is the best running watch you can get your hands on.
Size not for everyone
If you're a woman or a thin wristed buddy, go away now, as this thing in no way is going to fit you. Yes, that's true. The size of the band is so that it only works on the wrist of a certain perimeter. And to be honest, it's enormous. Be sure about your size before you opt for this option, as it continues to be a massive problem reported by reviewers!
FAQ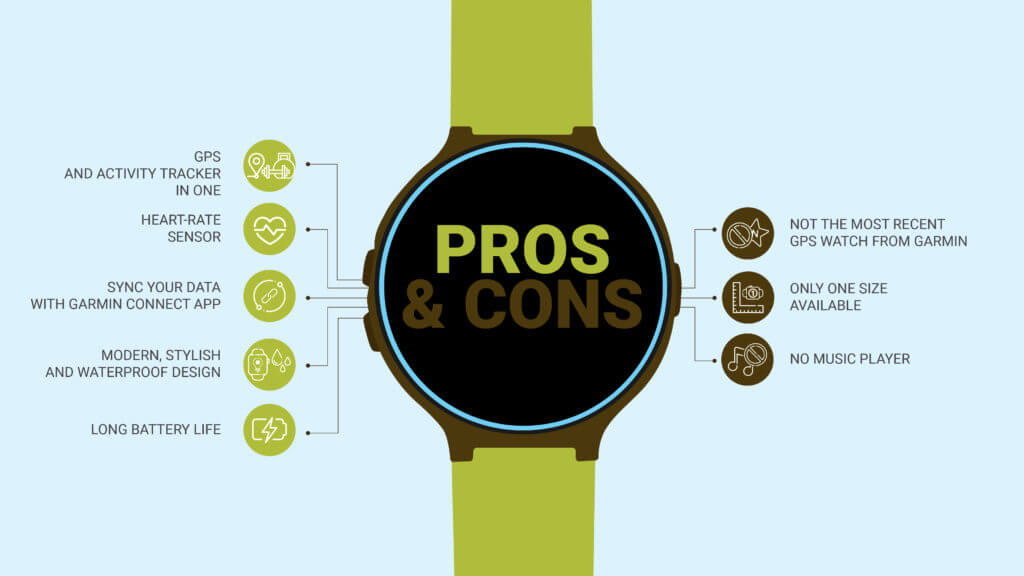 Bottomline
Our review tried to cover every aspect of this budget model that might benefit the user. Moreover, we also tried to point out the places where this watch falls behind its competitors. From our perspective, this model from Garmin is a well-balanced blend of some modern and old features confined in a single, stylish device that costs nothing more than a low budget health/running partner.
Beating every competitor falling in the line when it comes to the main features, we would highly recommend this model to runners who believe in minimalist ideas. So, in the end, it all comes down to you, what you like, and what you expect from a watch that costs you nothing more than $250. Paying a few bucks when you are getting so much out of it won't be a bad idea at all, don't you think? But of course, that's just a suggestion. We hope our Garmin Forerunner 235 Review helps you!