Are you looking for the best triathlon GPS watch but unable to find the one that can track multiple activities? Though there are hundreds of smartwatches in the market. Several elite athletes endorse buying Forerunner 935 because it will monitor the activities with maximum accuracy.
Best of all, you can stay motivated to complete your daily goals. Here's why: it will give flashing alerts when you stay inactive for a longer time. Without any further ado, let's get started.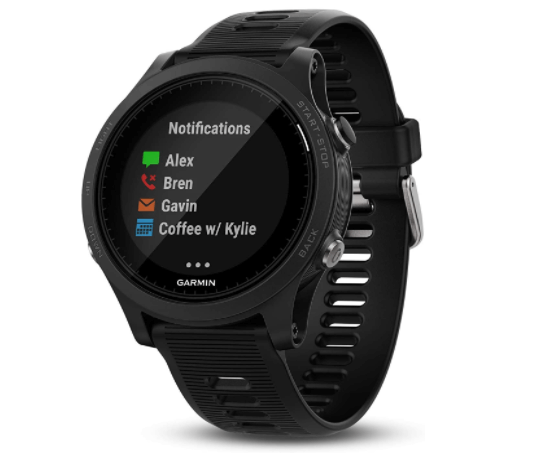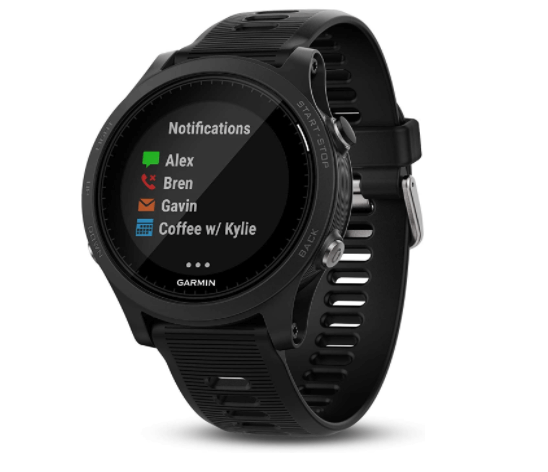 This multisport watch has impressive features and great accuracy in monitoring activities 24/7. Indeed, the Heart rate monitoring performance of Forerunner 935 is remarkable, and it has sensors beneath the dial of the watch. Those sensors will monitor the heart rate through your wrist.
On the other hand, Garmin 935 is the best triathlon watch because it monitors cycling, running, and swimming accurately. The silicone strap material of Garmin 935 is very comfortable, and you can easily wear it all night. Besides, this watch of Garmin is compatible with android and iOS smartphones.
This wrist-based heart rate monitoring smartwatch has other advanced features such as an electronic compass, barometer, and altimeter. You can easily navigate the status of the workout and check the goals that are completed or not.
And that's not all. Garmin 935 comes with the ground contact time, stride length monitor, and much more that we'll discuss below.
Design and Comfort
The display of the Garmin Forerunner 935 is pretty simple, and it has plastic material. This silicone strap is comfortable, and you can wear it all day long. You will have a screen of 1.2 inches. However, this smartwatch doesn't have a touch screen display.
On the other side, this watch has a bulky frame that will attract several athletes. In addition, it is bigger than the Garmin forerunner 235. The thickness of Garmin 935 is 13.9 mm. Indeed, this smartwatch has great features that it will display on the small screen.
You'd love to wear this smartwatch of Garmin all day. Even it is convenient for wearing at night to track sleep quality. This watch is waterproof up to 50mm. This smartwatch has five buttons that you can use for switching the watch faces.
The screen resolution of forerunner 93 is 240 x 240. It comes with a backlight, and you can conveniently check the activity status in darker areas. No doubt, this Garmin 935 has solid quality construction.
Convenient To Use
Without a doubt, the Garmin forerunner 935 is having impressive features. Still, it has a convenient user interface. You can navigate the watch with the 5 buttons, and it provides customizable screen faces as well.
On the other side, you can feasibly use the features of Garmin 935 by starting with the basics. Comparing other smartwatches with the Garmin Forerunner is quite impressive because it provides a convenient user interface and large buttons.
If we talk about the Garmin forerunner 935 vs Fenix 5, both have similar features. But forerunner 935 has a sleek shape, and it is much comfortable to wear than other Garmin smartwatches.
Garmin Sports Tracking
The Garmin 935 has several sensors that will monitor different activities. You'll be stunned to know about its sensors that include a gyroscope, accelerometer, compass, and thermometer.
More than that, it has a barometric altimeter that will monitor the elevation gain and loss. Even some of these sensors aren't present in the prior Garmin smartwatches.
If we compare the Garmin 935 with the tom spark 3, they have almost the same results to monitor the elevation gain and loss. Indeed, the Garmin forerunner 935 is the best multisport GPS watch.
You will have other sports features in Garmin Forerunner 935 that include hill track, skiing, paddle boarding, and golf tracking. Nonetheless, in this guide, we focus on the cycling, running, and swimming features of Garmin forerunner 935.
Swimming
We highly recommend buying the Garmin forerunner 935 because it helps the users to analyze their workout, and it will automatically detect the strokes.
For monitoring the swimming activity, you must swim in open water to have the most accurate results. However, the indoor swimming monitoring by this watch is 97% accurate. Other than that, when you do the flip turning, it becomes 93 percent accurate.
Moreover, you will know the swim tracking data on the basis of the SWOLF score. Not only this, you can set the strokes and set the length as well. Furthermore, you will have the water temperature reading with the Garmin 935.
Therefore, you can check why your performance after the workout. The swimming performance can vary if the temperature of the water is not normal. Best of all, it has an auto-lap alert feature. Manually, it is difficult to remember the laps of swimming. Now your watch will count the laps and alert with X if one lap is completed.
Surprisingly, the accelerometer of the Garmin 935 will stop monitoring the swimming laps when you touch the wall. But this feature is only for trial tracking. You have to press the stop swim tracking button after the workout manually.
Running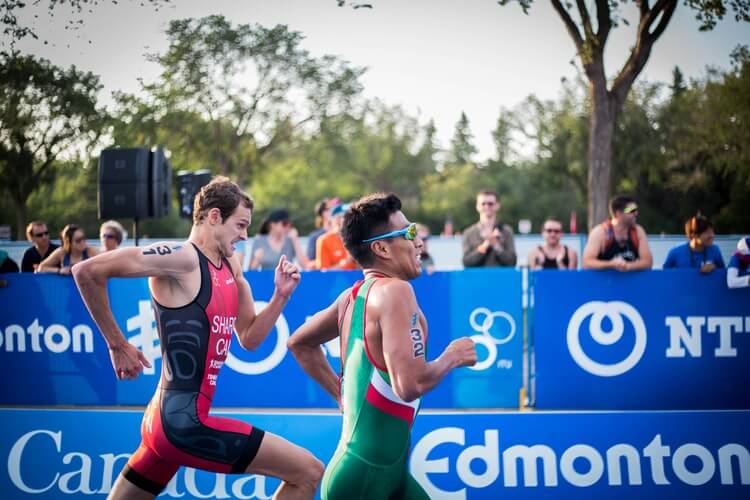 This smartwatch works as a coach. Therefore, you will know when the performance is above the required pace or below.
In terms of the running tracker, Garmin is quite accurate in monitoring swimming, running, and cycling. You will rarely find any fault in the Garmin 935, that why we have fewer cons to mention ;') But wait, let us tell you something interesting about this watch.
It gives an option to customize the screen, and you can see the pace, activities, time, and much more. It's true! You can set your workout goals on the Garmin Forerunner 935.
Cycling
Garmin forerunner 935 is great for cycling, and it will display the speed on the watch accurately. Moreover, you will know the triathlon stages with the cycling mode of Forerunner 935. On the other side, you will have other sensors to detect cycling and paddleboarding.
And that's not all; Forerunner 935 is so useful because it will monitor the jumpmaster and easily track your performance in most races.
Sensors And Accuracy
Polar and Garmin have introduced the heart rate sensors, and you will have an accurate rating. Not only this, you can pair the ANT + Chest Strap with the Garmin Forerunner 935. On the other side, this watch has won the gold standard in monitoring the heart rate with 99 percent accuracy.
In addition to this, the Garmin is using the elevate heart rate technology as well. This Garmin watch has version 2.0, and you can monitor the heart rate similar to the chest straps with it. If you prefer to buy a chest strap with the Garmin Forerunner 935, that would be useless.
Activity Tracking
The Garmin forerunner has several tracking features that include a sleep monitor, step counter, and calorie counter. It has special sensors that will monitor the heart rate 24/7. Even you can set the goals, and it will motivate you to stay active. With this watch, you will have flashing alerts to complete the daily goals.
One of Garmin's most noticeable feature is that it will recommend some tips for completing the daily goals. Indeed, the Garmin smartwatch works as a digital coach. Whether you need to improve sleep quality or cardio activities, this watch will work like charm.
What's more? It has the GPS routes monitor, and if you are going on a hike alone, the Forerunner 935 will guide you to the right path.
Garmin Connect App
Another prodigious feature that is offered by the Garmin company is the connect application. With the Garmin Connect app, you can download the watch face and other basic applications in it.
Also, the connect application will track the stress, sleep, heart rate, as well as steps. And the good news? You will get all the notifications of your phone on the wristwatch.
Battery Life
This Garmin Forerunner 935 comes with impressive battery life, and it has 24 hours battery life with the GPS mode. On the other side, you will have 60 hours of battery life with the power-saving mode. Garmin's smartwatch has the UltraTrac battery saver that you can turn on, so it lasts for more than 2 weeks.
It has a running session that you can use for 10 days. In fact, this watch will show up the alert of the low battery before 20 minutes.
However, this smartwatch will not charge quickly. You have to put it on charging for 3 to 4 hours for complete charging. Garmin Forerunner 935 stands out because it lasts longer than its competitors.
Other Features Of Garmin Forerunner 935
This multisport GPS watch is a complete package because it comes with the elevation gain and loss, pace, calorie and steps counter, cadence, Vo2 max, fitness alerts, swimming metrics, sleep monitor, hill tracking – stride length, and HR monitor.
Best of all, the heart rate monitoring feature of Garmin 935 is quite impressive due to ANT+ Technology. Other than that, you will have smart notification features. However, it doesn't have onboard music.
Final Verdict
After reading the detailed Garmin Forerunner 935 review, you will admit that it is the best triathlon GPS watch. Athletes would name it a multisport watch.
Do you know this watch of Garmin will tell you how far you have reached while hiking? Thankfully, it has the barometer altimeter. And the best part of Garmin 935 is the long battery life. You don't need to charge it every other day.
Likewise, if you want to know your fitness routine's progress, then Garmin is perfect for you. Best of all, it has advanced metrics, and you can easily track several activities at once.
All in all, Garmin 935 is a bit pricey, but it is worth buying!