A cycling GPS watch helps you track your fitness activities and location with much ease and comfort. It is a useful fitness gadget that keeps your fitness record from multiple activities like swimming, hiking, running, swimming, cycling, and cruising.
These watches guide you through workouts, recommend new workout and nutrition strategies, and provide health quality analysis. Multi-sport smartwatches usually cost between $100 to $700. Since it's a serious investment, you need to be careful before making a purchase.
If you are a fitness freak then having best GPS cycling watch make your ride smooth and enjoy the journey without deferring.
Best Cycling GPS Watches
Image
Product
Price

BEST OVERALL

Silicone strap.
Multiple global navigations.
Swimming, biking, and running.

CHECK BEST PRICE

ALSO GREAT

GPS tracking.
Garmin Connect app.
User-friendly interface.

CHECK BEST PRICE

BEST FOR TRAINING

Gorilla glass.
Fitness trainer.
Smart notifications.

CHECK BEST PRICE

BEST UNDER BUDGET

Impressive battery life.
Added protection and safety.
Colorful AMOLED touchscreen.

CHECK BEST PRICE

BEST FROM REST

Lightweight watch.
Wrist-based HR monitor.
Water resistant up to 98 m.

CHECK BEST PRICE
We have reviewed the 10 best cycling GPS watches in 2021 with durable construction and exceptional fitness-tracking abilities. Keep up the read!
---
1. Garmin Instinct
Another affordable watch with impressive features like multiple Global navigation systems, military-grade durability, and accurate fitness tracking.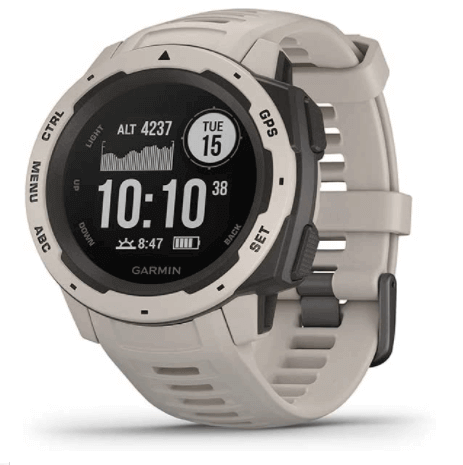 This is an inexpensive multi-sports watch out there, but it doesn't mean that it is a compromise on quality and performance. The watch offers almost every facility that you can expect from premium multi-sport watches that usually cost an arm and a leg.
This is a lightweight fitness watch with a silicone strap, which is extremely comfortable to wear. This 52 g watch has a 23x23mm black and white touch display and 128×128 screen resolution. This circular display is divided into different parts, showing different types of data like temperature and date.
This watch also has five clearly labeled buttons for ease of usability and users' convenience for interface Navigation. As a sports tracking device, this watch comes equipped with multiple global navigations and fitness tracking tools. These tools include GPS, GLONASS, Altimeter, Galileo, and heart rate monitor.
With this useful set of features, they can track almost all indoor and outdoor activities like swimming, biking, and running. And, finally, the best part of the watch is its powerful battery.
Since GPS drains a lot of battery, it lasts for up to 16 hours with GPS enabled mode. However, if you are using it just as a smartwatch, the battery will last for more than a week.
As the name indicates, it is a specialized multi-sports watch with a rugged design and military-grade durability. The watch can track more than 25 training activities with greater accuracy and precision, making it an ideal choice for young fitness lovers. All of these benefits make it best mountain bike GPS watch.
---
2. Garmin Vivoactive 3
Garmin Vivoactive 3 is a typical, round-face, affordable smartwatch with built-in GPS technology having steel casing and many amazing fitness tracking features.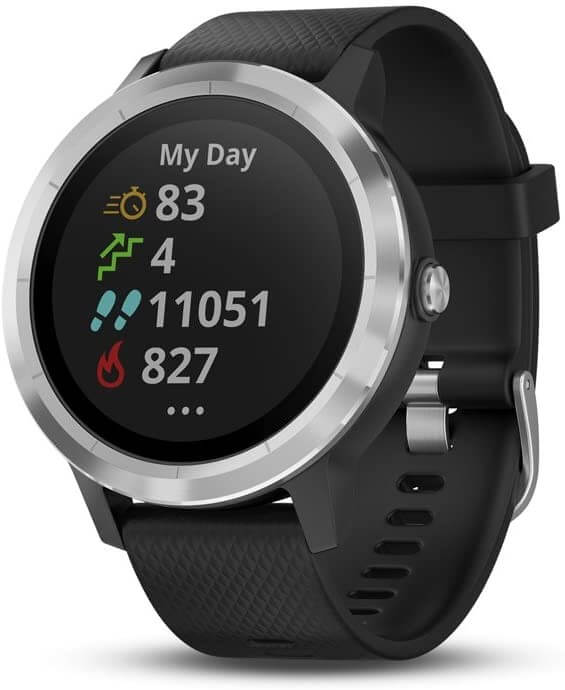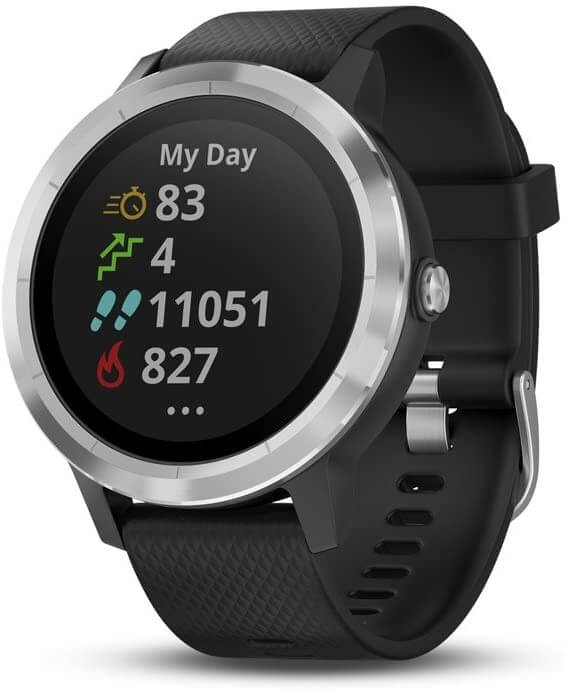 To begin with, the design is a round-faced watch with stainless steel casing and bezel, combined with a silicone wristband. The watch doesn't feel heavy on the wrist, and its flexible band provides comfortable wear.
Like other Garmin affordable smartwatches, it also comes with a color transflective display. It is easy to read even in direct sunlight, without the backlight. The best part is that the display works on a little battery expense. The display is always on but dimmed and becomes fully bright when you flip the wrist.
Another amazing feature of the watch is its user-friendly interface. It is a combination of physical buttons on the side and touchscreen assistance. The watch offers many smart features via its Garmin Connect App.
It includes many amazing options like Garmin App smart payment methods and notification. You can respond to the notifications and messages but in a limited way.
However, the watch efficiently fulfills all of your fitness needs. For instance, this useful fitness gadget features, GPS-tracking system, an always-on heartbeat monitor, and a workout-tracking system.
The watch comes packed with useful features like a user-friendly interface, Garmin Connect app, GPS tracking, and fitness assistance. If you are searching for an affordable GPS smartwatch with GPS tracking, there is nothing better than Garmin Vivoactive 3.
---
3. Garmin Fēnix 5
The smart sensor technology makes it one of the finest fitness gadgets around the market. It provides in-depth fitness and workout analysis data and recommends training and nutritional strategies.
If you are looking for a small multi-sport watch that you can also use as your everyday watch, consider this beautifully designed multi-sport smartwatch by Garmin. It is smaller in size than all Garmin Forerunner models and Garmin Fenix 3 as well. Moreover, it has an upgrade screen resolution, 240×240, a round face, and stainless steel bezel.
Its transflective screen with Gorilla Glass is bright enough to be readable in direct sunlight. For interface navigation, the watch has five buttons, which are not labeled clearly. But if you are a Garmin fan, it won't take too much time to get used to its setup and controls.
Moreover, it has a comfortable and flexible rubber strap, which is interchangeable too. Since it has around 100 meters or 10 ft water resistance, we can safely recommend this watch for outdoor and open water swimming adventures.
The features that help it stand out as the best Garmin GPS watch for cycling are its Glonass satellite reception, barometer, 3-axis compass, and GPS.
Furthermore, it provides sleep analysis and smart notifications, making your routine punctual and healthier. Garmin Connect apps make your life easier as it collects your fitness, workout, sleep, and tracking data in one place, making it easier to access and analyze.
The watch's battery lasts for around fifteen hours if you have enabled GPS. However, you can add a few more hours if you are not using GPS.
Other than a few problems with HRM optical sensors, this is a perfect cycling GPS watch by a well-trusted brand Garmin. With a rugged construction coupled with a streamlined design and a complete set of smart sensors, the watch offers the best value for the money.
---
4. Amazfit T-Rex
Amazfit T-Rex is a real treat for budget-conscious cycling enthusiasts. It combines excellent features like durability, a built-in compass, GPS, and impressive battery life.
This watch serves the purpose of tracking and finding the location perfectly. Amazfit is military-grade hardware with 810 rating points, making it an ideal watch for hostile environments. It features a rugged design, comprising a thick, 44-millimeter casing, metal screw head fixing, and four large buttons.
The bezel has a raised bumper for added protection and safety, covered with gorilla glass and an oleophobic coat. Some people might dislike this feature, as it adds extra weight to the watch. Since the watch features military-grade hardware, it can withstand a wide range of temperatures and be submerged up to 165 feet of water.
The feature that makes the watch our favorite is its bright and colorful AMOLED touchscreen. Moreover, it has an intuitive and user-friendly interface. You can navigate through the screen either by swiping fingers on the touchscreen or using the physical buttons.
Since it has a built-in compass and GPS feature, it's a real outdoor and cycling gadget. You won't lose track if this watch is your guide. Besides cycling and outdoor tracking, you can also choose from other modes like indoor treadmills, elliptical training, and other exercises.
The watch will tell the distance, time, and speed with 99% accuracy. When you begin the exercise, the touch screen automatically gets locked and prevents accidental touches and taps.
It also provides your sleep quality analysis, health, and fitness report. You can see your health data, calculate your fitness goals, and aims at the Amazfit App. This App is compatible with both Android and iOS.
This watch has no built-in memory, so you won't be able to play music. It also does not allow the user to respond to the notifications. You will get a preview of the watch. If you want to read the whole text or respond to a call, your phone must be within your arm's reach.
The most impressive feature of the watch is its impressive battery life. It lasts for around 300 days in only smartwatch mode. However, it drains faster when you enable the GPS mode. In GPS mode, with continuous location tracking, it lasts more than 10 hours, which is amazing, considering its price.
An amazing smartwatch is an affordable option for cycling, trekking, cruising, and fitness enthusiasts. The watch with impressive battery life, health quality analysis, GPS tracking, and rugged design offers the best value for money.
---
5. POLAR Vantage M
A relatively inexpensive but exceptional fitness gadget that provides in-depth training and fitness insights and multi-sport tracking with its onboard GPS and Heart Rate Monitor.
Unlike Vantage V, which is specialized for professional enthusiasts, Vantage M is an affordable option that provides solid training and fitness data to fitness enthusiasts and everyday athletes.
The watch features a streamlined design, largely different from popular Polar sports watches. For example, a plastic body, lightweight construction, and round-face are features that you don't usually find in Polar watches.
The plastic body is not as durable as a metal casing, but its lightweight watch feels extremely comfortable on the wrist. Moreover, it has a large color touchscreen with 240×240 resolution with impressive brightness and readability. The screen is large enough to display the fitness tests and training charts.
It has an on-board GPS and wrist-based Heart Rate monitor, making it an efficient and affordable fitness tracker. The only downside of the watch is that it has no built-in barometer and completely relies on GPS and HRM for measuring altitude and elevation.
The battery lasts for about thirty hours of continuous training with GPS, GLONASS, and HRM enabled. However, if you are only using it as a smartwatch, its battery lasts for about five days with a single charge.
Polar Vantage M is an inexpensive multi-sport watch and fitness tracker with 98 feet water-resistant and lightweight yet durable construction. Its built-in GPS and Heart Rate monitor provides industry training and fitness data for everyday cycling and running enthusiasts making it best run-bike GPS watch.
---
6. Anmino Smart Watch
A simple smartwatch with onboard GPS, barometer, Altimeter, and compass for location navigation and sports tracking.
Anmino Smartwatch is the most affordable cycling GPS watch on the list. The watch has an intuitive interface, a standard round-face with a smooth touchscreen.
To navigate the interface, you can slide over its smooth touch screen and can also use its Round dial. In addition to its simple and intuitive setup, it has a silicone strap for maximum comfort and skincare.
Anmino SmartWatch features an MTK2503AE chip that supports Glonass, GPS, and Galileo for global navigation and location tracking. It is an ideal fitness tracker on-board with a built-in GPS and HR monitor. It Works in five different sports modes, including cycling, climbing, marathon, indoor, and outdoor.
Furthermore, the watch is compatible with Android 5 and iOS, and you support smart to call and app notification. Although this watch shows up notifications and reminders for various apps, it supports a minimal responding facility.
The watch has an IP 68 water-resistant rating, which can withstand the rain and humid weather conditions outdoors. Remember that the watch doesn't support the tacking facility for swimming.
If you are looking for a budget fitness gadget for everyday use, this watch by Anmino is highly recommended. It is undoubtedly the best cycling GPS watch in 2021 with a built-in GPS, altimeter, barometer, HR heart, and blood pressure monitor.
---
7. POLAR Grit X
A military grade rugged watch having features like heart rate sensor, GPS, compass, sports tracking, and route guidance.
It has a sturdy built combined with a rugged design. Moreover, it contains stainless steel bezel and a silicon strap with five adjustment settings. Grit X has passed many military-grade tests like 100 feet of water submergence.
The watch comes with a 1.2-inch high-contrast color touchscreen with superior readability even in bright sunlight. Moreover, it has five physical buttons for menu navigation.
It features Komoot route guidance features; it turns navigation while riding, cycling, or hiking. Konoot map guidance lets you create new routes, keeps you on the right track, and guides you correctly while exploring new areas.
The most loved feature of the watch is its fitness tracking. It has a comparatively better heart rate sensor, which provides 90% accurate data. However, if you want to be more precise, it is recommended to buy an additional chest strap tracker. Moreover, the FuelWise app analyzes your running and exercise data and recommends you the best nutritional plans.
Not only this, a Hill splitter feature is the favorite app for hikers that collects and analyzes their uphill and downhill efforts by considering the distance, time, and speed, and provides accurate fitness data.
Finally, the most impressive feature of the watch is forty hours of battery life with GPS tracking. However, it lasts for over a month if you are not using GPS tracking.
Polar Grit X is equipped with a range of smart features and multi-sport tracking capabilities, making it one of the market's finest fitness gadgets. Its built-in GPS, Konoot Map guidance, and compass help it stands out as the best GPS watch for running cycling, and swimming on the market.
---
8. Suunto 9
Having streamlined design with features like fitness tracking to smart alerts and GPS navigation, this watch offers almost every function an athlete expects from a multi-sports watch.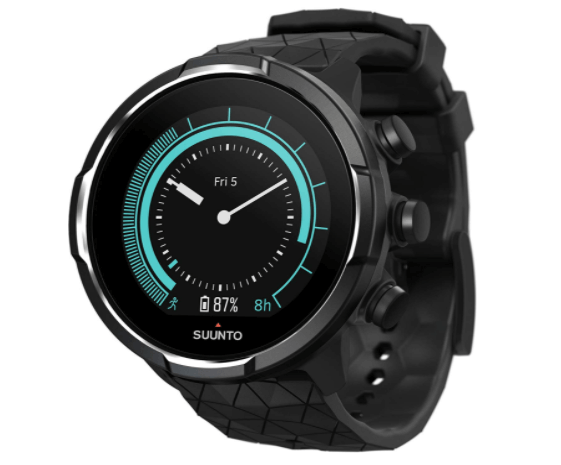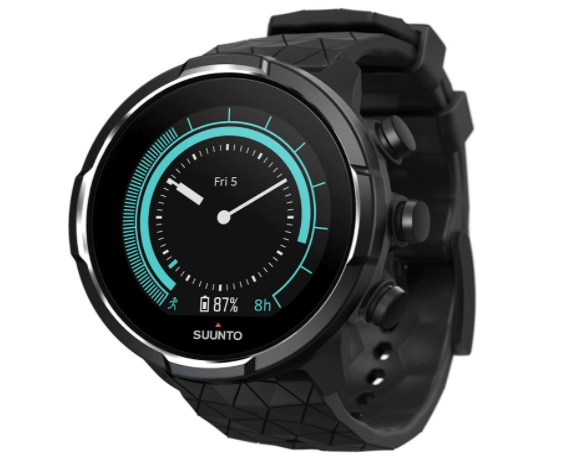 To begin with, it is one of the biggest GPS cycling watches of the design. Some athletes don't like its bulky structure. However, because of the plastic hardware, it manages to balance between weight and size.
Moreover, it has a colored matrix, a high-resolution touchscreen, and five physical control buttons for interface navigation. The screen is relatively less bright, which won't bother you if you are not obsessed with Garmin's exceptionally bright screens.
The most standout feature of the Suunto 9 is its combined GPS and FusedTrack algorithm system. This system provides accurate data location, track, and distance data at the lesser expense of battery.
Moreover, it is an efficient fitness tracker with more than 80 sports mode and a wrist-based Heart Rate monitor. Has a built-in barometer providing accurate weather alerts and temperature and storm alarms for safe and sound adventures.
Unlike inexpensive multi-sports watches, this watch is built to last. You don't need to worry about battery if the Suunto GPS watch is your outdoor adventure partner.
It has three different battery modes; Endurance, Ultra, and Performance. You can customize the battery usage by switching between these modes and extend the battery life up to 25 hours with continuous GPS tracking and recording.
Suunto 9 multi-sports watch is one of the best cycling GPS watches of 2021 that offer an efficient fitness tracking facility with more than 80 sports modes. Moreover, with its GPS technology combined with the FusedTrack algorithm, this watch will take your outdoor cycling experience to the next level.
---
9. POLAR Vantage V2
One of the most technologically advanced smartwatches that offer 130 sports profiles, GPS navigation, heart rate sensors, and fitness assistance.
The watch features a rugged design, making it one of the best multi-sport watches ever with a military-grade 810G-rating: a single-piece of aluminum alloy and reinforced glass fiber polymer casing.
Moreover, weighing only 52 grams is probably the lightest GPS cycling watch currently available in the market. This sturdy yet lightweight casing is combined with a flexible silicon strap which feels exceptionally comfortable on the wrist.
Furthermore, it comes with a 1.32-inch color touchscreen. Unlike older Vintage models by Polar, it has an automatic brightness adjustment feature. It automatically adjusts the brightness according to light conditions for easy readability.
This feature helps you save a lot of battery during daytime sessions. In addition to the touch screen, it has five large physical buttons that let you navigate the menu when then the touch screen becomes unresponsive.
For fitness tracking, the watch supports more than 130 sports activities. With its five LED heart rate sensors, it calculates and analyzes the workout performance. For this purpose, it has multiple modes like cycling, swimming, running, and hiking.
For GPS navigation and mapping, this watch also comes with Konoot mapping. It provides turn-by-turn navigation, helps you explore and create new tracks, and keeps a track record. Moreover, you can import the routes from Polar Flow and can load them on the watch too.
Konno Turn-by-turn route guidance is the favorite feature of off-road adventure enthusiasts. The battery lasts up to 40 hours if you continue to use GPS tracking. However, you can extend this time up to 90 hours if you use the watch in low power GPS mode. One of the watch's downsides is that it doesn't support the offline music facility.
Polar Vantage V2 is an upgraded and improved version of Vintage V. the watch stands out as one of the best GPS cycling watches due to its lightweight, durability, GPS navigation, and in-depth rating and recovery insights.
---
10. Garmin Forerunner 745
Forerunner 745 is another best value smartwatch by Garmin that promises accurate tracking data for running, swimming, hiking, and indoor activities.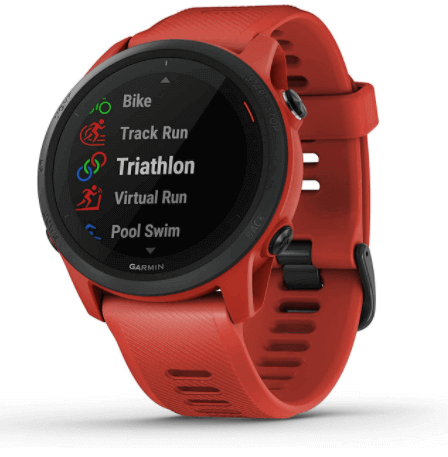 Its sturdy and durable polymer casing paired with a silicone strap, makes it feels comfortable on the wrist. Although it is not the lightest multi-sport watch, it doesn't slide on the wrist during training sessions. Moreover, it has a water resistance of 5 ATM or 50 meters, making it an ideal tracing device for swimming.
The watch shows reliable GPS performance for convenient navigation and route guidance. You can follow the routes provided by Garmin's route builder or can import routes from Strava or Kommot. Strava and Kommot give you access to additional navigation features like TracBack.
Since it's a multi-sport watch, it can track a large range of indoor and outdoor activities like cycling, swimming, kayaking, running, and yoga. It has an optical heart rate monitor that provides precise data. You can also add extra sensors like Garmin's pro heart rate monitor and vector devices via Bluetooth connectivity.
Another standout feature is that you can play offline music on the watch during outdoor adventures. You can store up to 500 songs on the watch, but you need a premium subscription like Amazon Music, Spotify, or Deezer for this purpose. The watch weighs 47 g and has a 1.2-inch display. It means it is smaller than many smartwatches.
In smartwatch mode, the battery lasts for about a week. However, its battery drains faster in GPS mode with continuous music play and lasts only for around six hours. However, you can extend the battery life up to 30 hours by using the watch in UltraTrac mode.
Garmin forerunner 745 with a rugged design and GPS offers great value for the money. If you want smart training and recovery insights, fitness plans, and multi-sport tracking, Garmin Forerunner 745 is highly recommended.
---
Final Verdicts
A multi-sport GPS watch plays a critical role in the life of professional athletes, adventure lovers, and fitness enthusiasts. Having the best GPS cycling watch makes your life easier since it helps you trace location, explore new places, and track your fitness performance.
Although the watches of our list of ten best cycling GPS watches of 2021 offer the best value for money, still we can choose thee as our top-picks
POLAR Grit X for its rugged design, onboard GPS, and Komoot Map Guidance.
Garmin Instinct with GPS for multi-sports tracking, impressive battery life, and multiple global navigation tools.
Anmino Smart Watch with onboard GPS, compass, HR/blood pressure monitor, and affordable price.
Keep in mind that smoke multi-sports watches are costly as they offer tracking facilities for various activities. However, if you're looking for a GPS watch only for cycling or hiking, you don't need to pay extra money for premium water-resistant multi-sports watches.
---
Recent Posts:
---
---
---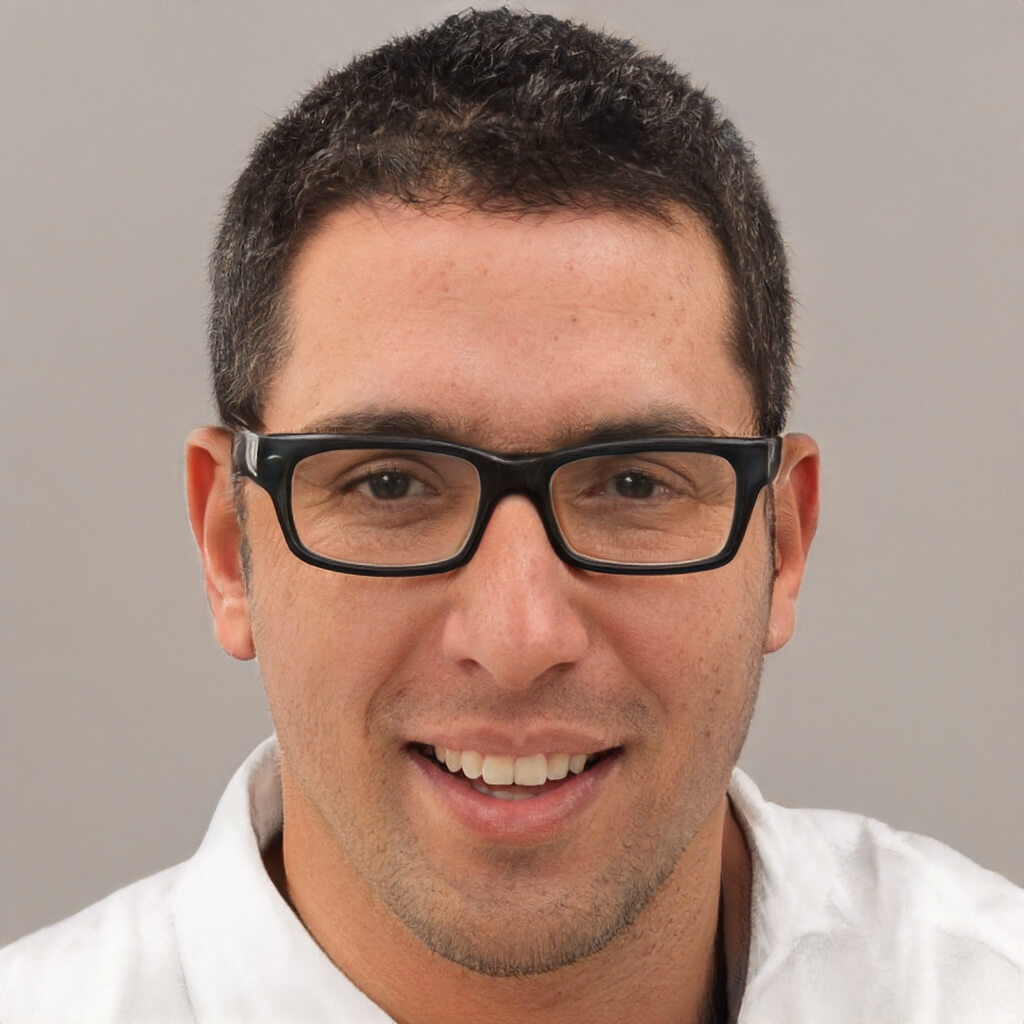 Eric Jordan
Writer | Triathlete
A writer by passion and a triathlete coach profession. In his free time, he swims, runs, cycles, and helps newbie athletes to achieve their goals.