Triathlon Distances – How Much Time You'll Need To Train?
As a non-triathlete, it very difficult for anyone to decide which triathlon distance to do? In this article, we'll walk you through each of the triathlon distances.
Additionally, you will know which triathlon distance is ideal for you, and how much time it takes to complete the triathlon distances? So keep on reading!
Triathlon is a great activity that involves three challenging sports on it.
Swimming
Biking
Running
With this multi-discipline activity, you can easily maintain the fitness level and tone the body muscles. Other than that, most of us are only familiar with the Hawaii Ironman triathlon distance.
Although the distances of the triathlon will vary from one event to another? Did you know it? The race can take from 3 hours to many days.
What are the Distances of Triathlon?
Here we'll tell the necessary five most popular triathlon distances. Not only that, but you will know how much time each triathlon can be completed. Besides that, the distances will differ according to the weather of the state. Below are the standard triathlon distances in miles and meters. Have a look!
| Triathlon Races | Swim | Bike | Run |
| --- | --- | --- | --- |
| Super Sprint | 300m (0.19 miles) | 8km (5 miles) | 2km (1.2miles) |
| Sprint | 750m (750 miles) | 20km (12 miles) | 5km (3.1 miles) |
| Olympic | 1.5km (0.93 miles) | 40km (25 miles) | 10km (6.2miles) |
| Half Iron | 1.9km (1.2 miles) | 90km (56 miles) | 21.1km (13 miles) |
| Full Iron | 3.8km (2.4 miles) | 180km (112 miles) | 42.2km (26 miles) |
The full iron man triathlon distances are the longest. WTC – World Triathlon Corporation organizes them.
The super sprint triathlon distances are also known as the mini-triathlon or tri-tri distances. Moreover, the Chicago triathlon distances aren't long. Also, the triathlon event for kids occurs in Chicago that involves a mini-triathlon distance race.
1: Tri-tri/Mini/Super Sprint Triathlon Distance
The first and the shortest distance of the triathlon is the super sprint. This distance also has other names such as mini or tri-tri triathlon distance. It is the best distance for beginners. Additionally, it doesn't take longer than one hour.
Other than that, some of the athletes with faster speed can complete it in 40 minutes only. Further, it involves 300 miles of swim, 5 miles of biking, and 1.2 miles of running. However, the distance may vary slightly as per the place of the triathlon event.
Ensuring peak performance during your triathlon journey involves comprehensive preparation, and one crucial aspect is understanding the significance of hydration systems for triathlon distance training. Your training regimen's duration and intensity directly impact your hydration needs, making it essential to integrate efficient hydration systems into your routine.
However, you have to work on your speed to complete the race quickly. But you must know how and when to control the breath while swimming in an open area. If it is your first triathlon, you might be fearing the Dark Ocean.
Nevertheless, practicing will help you to complete the distance and how to hold your breath.
2: Sprint Triathlon Distance
The second race is the sprint triathlon distances. The sprints are relatively shorter than other types of triathlon distances. Though, it is longer than mini and super sprint distances.
For instance, the sprints include 20km of a bike race, 5 km of run, and 750m of swimming. Sprints triathlon distances are not tough for the professional triathlete, and they can easily complete it in 52 minutes.
More than that, you can try the triathlon sprint distances as a beginner, but it will involve a long time of training. Best of all, you will have an opportunity to become more competitive by practicing the sprint tri-race.
And the best part? You can easily build speed with the triathlon distances. To be honest, it is difficult triathlon distance as it burns a lot of lactic acid in the body. Furthermore, the ticket to take part in a sprint triathlon isn't costly.
Whether you're a seasoned triathlete or just starting your journey, our guide provides invaluable insights and
techniques to help you build endurance and swim more efficiently
. We understand the importance of conserving energy during the swim leg of a triathlon, and our dedicated resource offers practical tips and step-by-step instructions to ensure you're at your best when it's time to hit the water.
When considering the time and effort you're willing to invest in your athletic pursuits, it's essential to explore the potential growth factors associated with different sports. Many athletes wonder about the impact of their chosen activities on their physical development.
In this context, understanding the relationship between swimming and triathlon becomes intriguing. While swimming is often associated with its potential to stimulate growth due to its full-body workout and potential influence on growth hormone release, triathlon is another demanding discipline that involves swimming as one of its components.
3: Olympic Triathlon Distance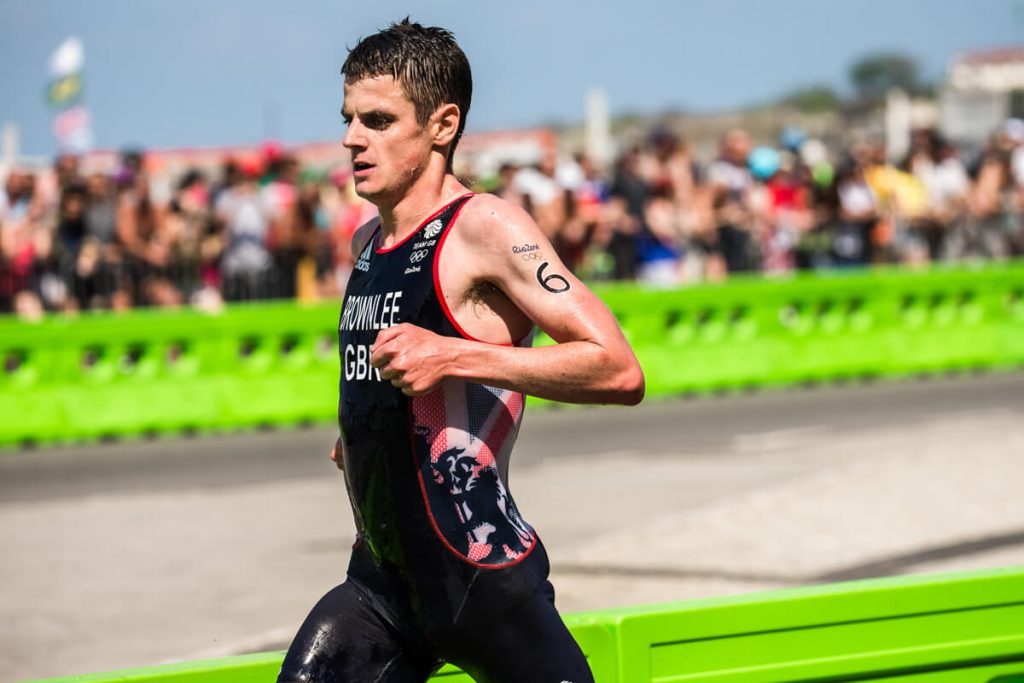 The third most common and longest triathlon distance is the Olympic tri-race. This race includes swimming of 1500 meters, running of 10km, and a bike ride of 40 km. No doubt, Olympic triathlon distances are harder than the super sprint and sprint triathlon distances.
Do you know how much time do professional triathletes take to complete the Olympic triathlon? On average professional will complete it in 1 hour and 40 minutes.
What's more? You have to work on the proper pacing as well as the strategy of the race. Other than that, you need to maintain your nutrition. In fact, it involves longer practicing hours in a week.
While practicing for the Olympic triathlon distances, you'll know how to save energy but gain more speed at the same time.
If your sore legs after swimming, you will have time to settle down for the race's next phase. Though, you shouldn't take a long time in between the race to switch to the next phase.
Tip
You have to work on the swimming triathlon distances for improving overall speed in the race. As swimming consumes most of the energy, you must know how to swim in an open area properly.
---
4: Half Ironman Triathlon Distance
Are you prepared to do half triathlon distance? It involves a lot of stamina because it is longer than other distances that we have discussed above. Other than that, we don't recommend the half ironman triathlon distance to beginners.
Half triathlon distances include 21.1 km of running, 1900 m of swimming, and a 90 km bike ride. Even though it is not a great deal for professional triathletes to complete it. They can complete it in 3 hours and 30 minutes easily.
In this race, you should be conscious of your diet. Additionally, you have to prepare for it. Likewise, the athletes will love this race because it doesn't cause a lot of fatigue as it is longer than others.
However, you can say it involves pain in other aspects. For instance, you need to manage the body and build more stamina.
On the other hand, if you are looking to upgrade your fitness level and stamina, then half ironman is the best option. As well as, you need to look for the right training and proper nutrition to complete the half ironman distance.
Once you have complete endurance, it means you don't need to worry about completing the race. Also, Make sure to follow the right strategy for the half ironman triathlon distance.
5: Full Ironman Triathlon Distance
Are you ready to try a harder level of triathlon distances? The longest race of all above is the full ironman triathlon distances.
You might be stunned to know how long it is. This race includes 42.2 km of running, 180 km of bike ride, and 180 km of swimming. Woah! That's hard to complete.
Moreover, it will take 17 hours to complete. However, 17 hours is the average time for professional triathletes. Besides that, you have to stay awake at midnight as well. For this race, the triathletes have a long time to complete each phase of the full ironman.
For instance, age group triathletes will have 2 hours for completing swimming, eight hours for a bike ride, and six hours for a run. However, the time duration may vary from one event to another.
Likewise, the full ironman triathlon is an expensive entry fee. You have to complete work on your fitness level to complete the full ironman triathlon. Control of breath is crucial for all the triathletes for a full ironman triathlon.
In addition, you need to build up speed and stamina for completing the full Ironman triathlon distance. Indeed, your speed will define how much time you will take to complete the full ironman triathlon race.
The Longest Triathlon Distances
Several types of ultra-triathlon distances are very long, and it takes various days to complete it.
Double and triple ultra-triathlon
Quadruple ultra-triathlon and Quintuple ultra-triathlon
Deca ultra-triathlon
Ten days ultra-triathlon
Double and triple deck ultra-triathlon
In general, these races have the following distances:
114 km (71 miles) – Swim
5400 km (3400 miles) – Bike ride
1260 km ( 780 miles) – Running
Average Heart Rate of the Athletes in Triathlon and How to manage it?
The triathletes in the sprint distances have the highest heart rate. On average, the heart rate for 1 to 2 hours will be at 85 to 90 percent maximum.
Moreover, the high heart rate cause is their struggle to complete the race from the beginning.
Furthermore, the athletes who have completed the ironman triathlon distances have a 75 to 80 percent heart rate. This average percentage of HR is for 5 to 7 hours of the race.
On the other side, the athletes of ironman distances have a lower heart rate than others. Their HR lies from 65 to 75 percent. Plus, these athletes have great stamina, and they can hold the breath for a longer time while swimming. Even the ironman athletes can maintain their HR for 16 + hours easily.
However, the ironman triathletes deal with a higher level of fatigue. Besides, they have a faster metabolism. After practicing for a triathlon, athletes can maintain their HR.
FAQ's About Triathlon
To Sum Up
Now that you know about the triathlon distances. Choose the distance that you think fits according to your body's stamina and fitness level. Make sure that you start with the smaller distances to get familiar with triathlon.
Directly picking the longer or half triathlon distance wouldn't be a good option to survive. Overall, the half and full ironman distances are ideal for those who have tried all the shorter sprints before.