Polar Vantage M vs Garmin 735xt — Which one is better Polar or Garmin?
Are you confused about choosing between Polar Vantage M vs Garmin 735XT? Here is the good news for you. We will compare both multisport watches to help you choose one. Let's review both of them honestly to make an educated decision!
Both multisport GPS watches come with extensive lineup features. Furthermore, Polar and Garmin are the most popular and best-selling among triathletes due to their durability, flexibility, and versatility.
In the first place, you might wonder if both of these watches have the same characteristics and how you would choose the best one? Don't worry. We'll walk you through nitty-gritty details and features of Polar Vantage M and Garmin Forerunner 735.
Without further ado, let's get started!
Polar Vantage M vs Garmin 735XT
To represent a complete comparison, we have reviewed each aspect to consider. We make sure you should have enough information about Polar Vantage M vs Garmin 735XT and make educated decisions.
User Interface
The Polar Vantage M has easy to use interface as it comes with a clear watch face. You don't have to clean it every time or remove scratches after a triathlon workout. Its wrist band is designed to fit a wrist that measures between 5.5 to 8.2 inches.
Compared to Polar, Garmin 735xt has a bit clunky interface and takes some time to get used to. Once you get used to it, you will feel comfortable due to its sleek design if we compare this watch with Forerunner Fenix 3, i.e., too wide, thick, and heavy. Moreover, Fenix 3 is twice in weight as compared to Garmin 735xt. Both are Garmin's products but have their pros and cons. In a nutshell, Garmin 735xt doesn't feel like something chunky on your wrist.
Battery Life
Polar Vantage M lasts for 30 hours of training time. Furthermore, if you use it in daily routine life and during workouts too. Polar Vantage will be up to the mark as it lasts for 7+ Days. When we tested this watch traveling for 3 Days with 6 Hours of training, the watch still had >50% battery. In terms of battery life, Polar is a watch you need.
Since Garmin 735xt has ultra-long battery life and you will love it. But here is the check, this watch doesn't come with an AC adapter to charge with. Moreover, if you charge Garmin 735xt with any 3rd party AC charging resource, say Apple AC adapter, you will screw your battery up due to high voltage than it requires. So, it is advisable not to charge your 735 with anything but Garmin AC adapters. And the best part? This watch lasts 11 Days in Smartwatch Mode and up to 14 hours in GPS mode.
Compatibility
Now you can capture the key metrics like swimming stroke and pace with Polar Vantage M. This watch comes with easy syncing of your triathlon accessories. Its swim, bike, run, and hike functionality makes it very compatible. With customizable fitness band options, personalize Polar Vantage with your OWN style. You may face compatibility issues if you are using Gamin sensors. So, to gain maximum out of it, make sure you are utilizing the right sensors.
Being a triathlete, you will like Garmin 735's ease of use. There is no mumbo-jumbos button that you have to play with them to implement one thing. Moreover, you don't have to scroll down way too long to find sport profiles. Buttons are easy to use whether you are wearing this watch in summer or winter. Wearing gloves and configuring touch screens is a bit daunting task, and Garmin solved this thing for you. You can switch among various triathlon and sport profiles within one click.
GPS
The Polar Vantage M comes with solid integrated GPS to measure accurate speed, distance, and excellent route tracking. Due to its extra-long battery life, you can go up to 30 hours of GPS swim, bike, or run. You can have an idea of its accuracy that it starts engages within 10 seconds of selecting training.
Forerunner 735XT is the best GPS wearable for athletes – especially trail runners. This watch has GPS for tracking various sports, and optical heart rate monitors to measure your activity throughout the training. Though it doesn't have a built-in altimeter, and it measures altitude using GPS only. This thing made 735XT unique and different – less equipment with extra efficiency.
Forums
Most of the time, you want to interact with people and discuss with like-minded people. Most of the websites provide support using chat robots, and that's not satisfactory being human. Though technology is advancing day by day, there is always a space of human to human interaction.
Both Garmin and Polar have their forums and communities. There you can ask questions, share thoughts, provide answers, and share feedback. You can access forums of both manufacturers using the below links.
Reset Options
You can always restart the watch if you face any problem using it. Restarting the watch won't result in the deletion of your personal or your training data. If doing this way not help in achieving the desired results, you can try resetting it. Below are the resetting options for both watches.
To reset Polar Vantage M, go to General settings » About your watch » Restart your watch. Press OK button to start resetting. It will again ask for confirmation. Press OK again. and a detailed guide, you can read here:
For more Information: Reset Vantage M and Vantage V
As far as resetting of Garmin Forerunner 735XT is concerned, you can do similar steps as mentioned above. Here are the mentioned steps to follow. Go to Menu » Settings » System » Restore Defaults » Yes.
For more Information: Reset Garmin Forerunner 735XT
Caution! Resetting will erase all personal and training data. Make sure you have backup files before resetting any smartwatch.
Training Apps
With training hard and working out for triathlon. One wants to keep track of performance and instantly see work achievements. This thing can be accomplished using training apps, just like Polar Flow and Garmin. Most of the watch manufacturers do not want their buyers to install 3rd party apps for training. To make sure they have correct syncing issues. Below is a brief description of both apps.
As the name suggests, this app is for Polar watches. In our case, Polar Vantage M. This app can be used as a fitness, sports, and activity analyzer for Polar GPS watches. You can see all your activity on the go with Polar Flow App. It comes with extensive syncing features through which you can sync this app with your mobile phone.
What new in this app? This app has been updated, and a new feature which they called Diary View has been added. Utilizing this feature can help get an insight of your data in one single view. If you are already using this app and don't have this feature, press the update button, and you are good to go!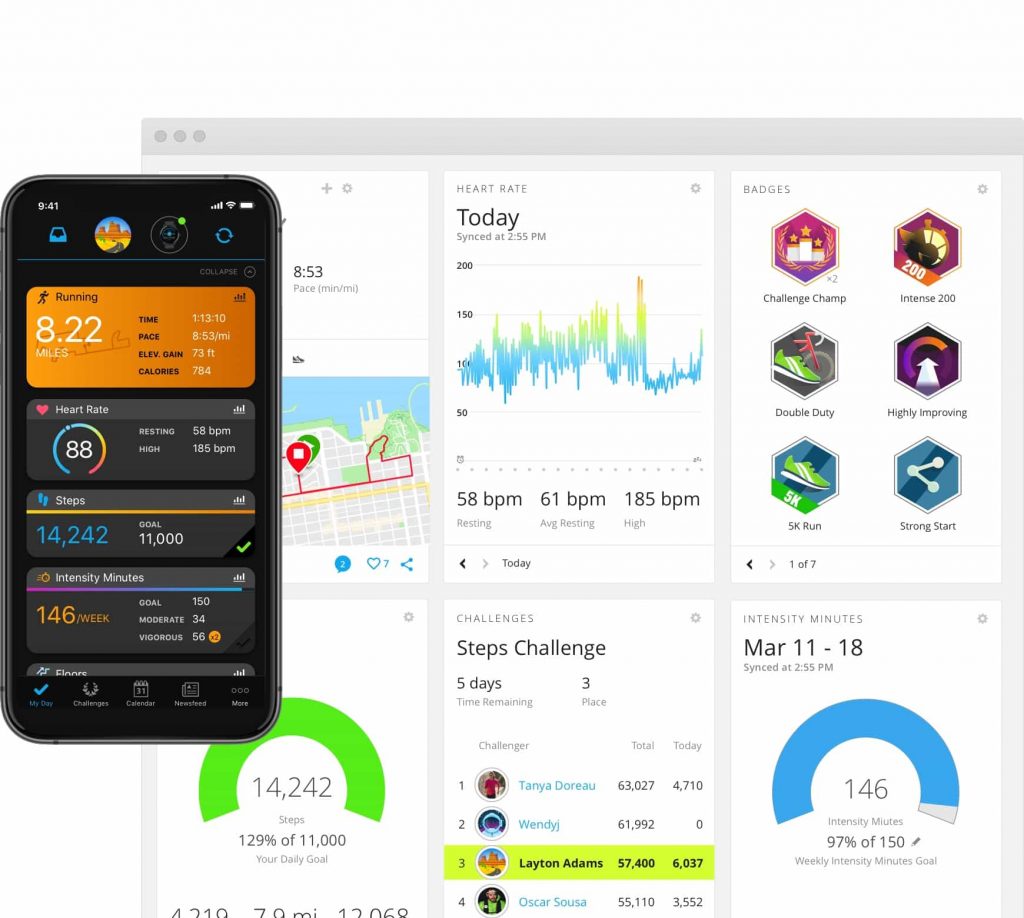 The one-stop source for health and fitness data. If you were using Garmin and did not install this app, you are missing big things. Whether you are just working out or training for your tri race competition, this app will give you enough inspiration to beat yesterday.
Let talk about what's new in this app? You can now challenge your friends, create workout plans for you, and, last but not least, build courses. All these things happened within the app. Like Polar, they have added a feature called My Day Page, which lets you analyze your all-day performance in a bird's eye view.
Heart Rate Monitor
The Polar Vantage M has an optical heart rate monitor with the latest bio-impedance electrodes and optical sensors. That's the reason why polar has accurate heart rate monitors. Polar build heart rate monitors that are suitable for athletes at all levels. If we compare its HRM with Garmin 235, it is way more accurate. It will tell you your heart's behavior all day by showing the lowest and highest heart rate at the end of the day.
Garmin Forerunner 735XT has a built-in and wrist-based heart rate monitor. You don't have to buy a separate chest strap. When we compared its heart rate reading with chest strap values, they were reasonably close enough. In a nutshell, this watch estimates heart rate at the wrist so you can run freer on race day than worrying about inaccurate readings.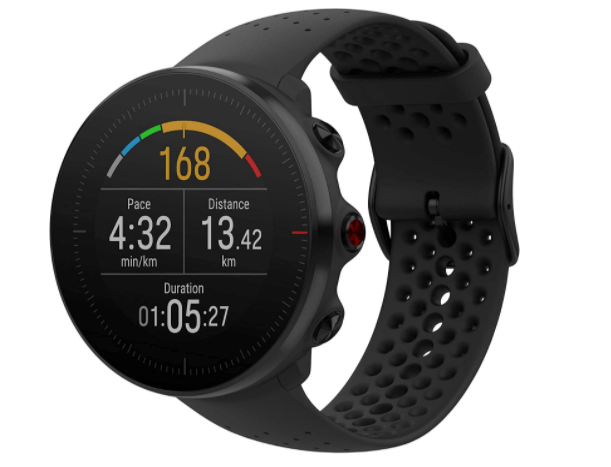 Specifications
• Item Dimension: 6 x 4 x 4 inches
• Weight: 1.6 ounces
• OS: iOS & Android
• Best Recognized as Sports & Outdoor Watch

Unlock your running potential with an all-round multisport Polar Vantage M GPS watch. Now, you can break your records with this slim and lightweight workout champion. The Polar Vantage uses new Precision Prime sensor fusion technology to monitor heart rate during training and race.
What's the best part? This watch has 130+ sport profiles, which means you can customize the setting for each sport. You can add your favorite sport profile in the polar flow app.
Moreover, you don't have to worry about the number of calories you have burnt during your workout session. This watch will precisely let you know the number of calories you have burnt according to your age, weight, and gender.
Polar goes the extra mile in guiding the users. They have added Serene breathing guide and FitSpark daily training guide. Get yourself relax with their breathing guide and pick ready-made workout plans from the training guide.
In a nutshell, if you need a go-to does-everything training tool, Polar Vantage M is your watch.
---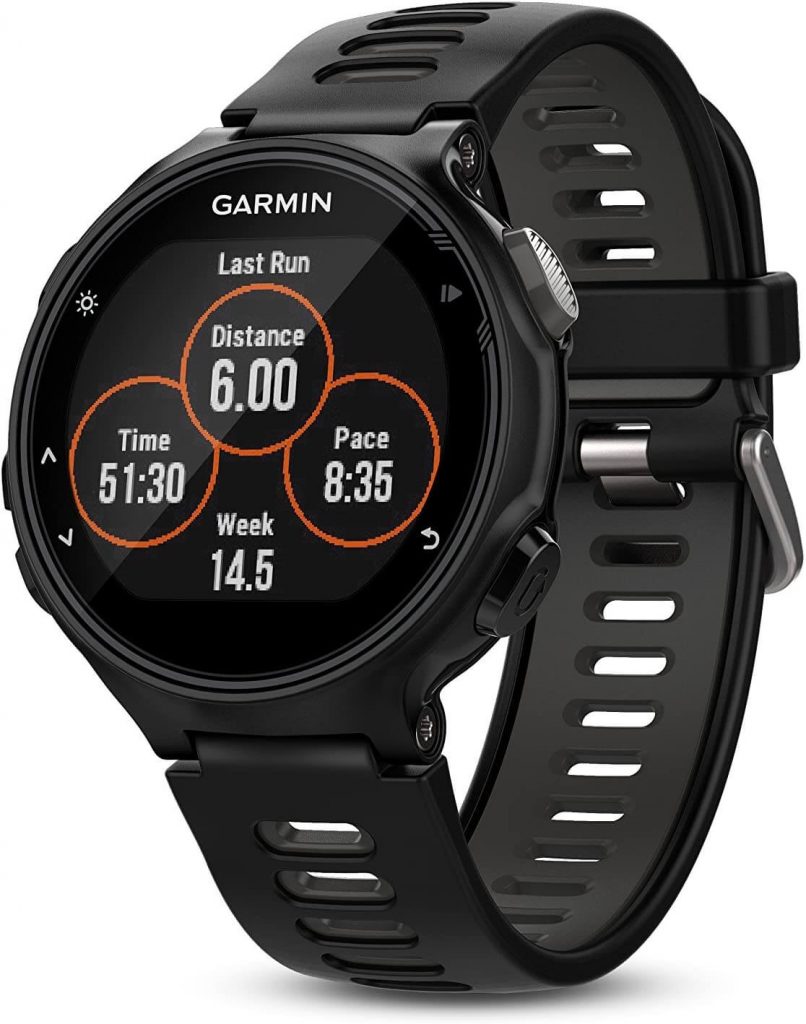 Specifications
• Display Size: 1.23 Inches
• Weight: 1.6 ounces
• OS: iOS & Android
• Best Recognized as Running GPS Watch

This watch is made by keeping triathlete runners in mind. If we compare Garmin 735xt with other models, this will be your go-to Tri watch.
What else do you need with 11 days of long-lasting battery life? This works well even for iron-distance triathlons. If you are running 50 miles, charge it once and GO!
If you are a multisport triathlete and want an exceptional watch that you can wear while running, swimming, bike, and hike, this is it!
Unlike other smartwatches, this watch is designed primarily for ultra-runners. As far as cycling is concerned, this watch is pairable with ANT+ cadence on your tri-bike. The built-in accelerometer works best for tracking strokes, laps, and distance estimation.
Out of all good things, this watch doesn't work as an activity tracker. It tracks sleep, steps, and goals you have set, but it will not work for you if you want this watch solely for monitoring activities. There are many Android and iOS watches available, which do this cause and cost a bunch less.
Running inside and want to calculate metrics? 735xt is your watch. If we talk about running cadence, this watch has a built-in accelerometer to measure your speed, distance, and other metrics accurately. Last but not least, Garmin Forerunner 735xt works perfectly with a footpad and gives you accurate reading as well.
In conclusion, Garmin Forerunner 735XT is the best Multisport GPS Running Watch with a heart rate monitor you would ever see. This would be the best purchase you would ever make for starting your triathlon training.
FAQ's
Conclusion
You must have a crystal-clear view in mind, which is better Polar or Garmin? Well, it depends on your choice and requirements. We have presented Polar Vantage M vs Garmin Forerunner 935XT so you can make an educated decision. If you are more inclined towards the GPS thing, Polar Vantage M would be the best. On the flip side, if you are concerned about battery life, Garmin Forerunner 935XT is your go-to watch.
Go and get yours NOW!