Increase the momentum towards your fitness regime with the best waterproof smartwatches that help you in tracking the activities, and health conditions like heart rate. You can also have other options, such as traveled distance, calories burned, speed level, steps, and more.
The waterproof smartwatches are more focused because they are more durable and cope with conditions like rain, or humidity. You can also wear these watches while swimming.
Well, there are multiple brands manufacturing such smartwatches that are best on their own. The most common names in the market are Apple, Samsung, Fitbit, and Garmin.
However, watches other than these sellers can also be categorized as best on the basis of their specifications and technological advancements.
Best Waterproof Smartwatches
After spending hours of research, this article collects important data and enlists the best waterproof smartwatches in 2021 to let you have a better experience.
Image
Product
Price

OUR TOP PICK

Altimeter: Yes.
Display: Retina.
Processor: Dual-core S3 processor.

CHECK BEST PRICE

ALSO GREAT

Weight: 43 g.
Display: AMOLED.
Size: 53 x 46.8 x 10.8 mm.

CHECK BEST PRICE

FOR UNDER 100

GPS: True.
Weight: 73 g.
Screen Size: 1.3 Inches.

CHECK BEST PRICE

BEST FOR TRAINING

Weight: 82 g.
Battery: 470mAh.
Display: Super AMOLED.

CHECK BEST PRICE

BEST UNDER BUDGET

Weight: 59 g.
Material: Plastic.
Water-resistant depth: 200 m.

CHECK BEST PRICE
---
1. Apple Watch Series 3
The best choice for any iPhone user as it gives you full access to your iPhone functions without even holding your cell phone in your hands no matter you are swimming or running.
Do you know it is now possible to regulate your phone calls with this Apple smartwatch! However, this product is not the latest model in the Apple watch series but it is best on its own by offering vast specs that could not be denied.
This watch is compatible with your iPhone and you can also use Siri and avail yourself smart functions. Meanwhile, it also works as a fitness tracker by following all your health parameters and physical activities.
It also has a built-in GPS for outside use and the best choice if you are a camper or hiker. Also, it has a Digital Crown feature which enables you to zoom in or out the location and explore it.
With this fitness tracking watch, you can also enjoy swimming or diving because it is water-resistant to 50 meters. However, it does not work in saltwater.
The battery timing of this smartwatch is not that good but it can be improved if you can use this smartwatch in night mode.
All in all, it is the best waterproof smartwatch for swimming as it offers great value for iOS users or iPhone users, specifically. They are able to answer phone calls, emails, messages or can also handle social media accounts through this product.
What Makes Series 3 Stand Out
---
2. Huawei GT 2e Smartwatch
The GT 2e is swim-friendly wrist wear that looks certainly aesthetic on every gender. Suitable for indoors as well as outdoors because of its accuracy and range of metrics.
The Huawei smartwatch is not only resisting the water but offers the latest specifications which would totally amaze the audience.
This affordable smart timepiece offers a large and bright display with a touch option that is boxed in a 47 millimeters premium quality stainless steel which makes it more durable and classier.
This watch is designed for sportspeople to get updates regarding their health even in the water. It is proficient in tracking a range of metrics including laps, distance covered, calories count, speed, stroke rates, SWOLF, and frequency.
Moreover, the smartwatch has good battery timings of approximately two weeks so you won't get worried about that. The battery life is one of the main reasons behind the consideration of this smartwatch.
It will give coverage to your health parameters like heart rate, oxygen level, stress level, and more. All this data can be stored and licked with Huawei companion applications but unfortunately, other swimming applications will not work as a third party with this smartwatch.
In summary, Huawei surprised us with the best waterproof watches for triathletes that offer a series of specifications including GPS. This sleek and beautiful wrist-wear is worth buying.
What Makes GT 2e Stand Out
---
3. COLMI Smart Watch
Explore better and in the right way with COLMI smartwatch having an attractive design and fabulous features of GPS tracking with long-lasting battery.
The COLMI smartwatch is another 2021's best waterproof smartwatch under 100 that offers an HD display. The display is shielded with the best quality glass that is able to resist physical pressures like scratches, water, etc.
The glass is cased in a metal body which keeps it safe too. The metal watches are more durable and sturdier in nature. The display is 1.3 inches in total and is a touchscreen which gives an overall good look to this watch.
You will be able to do the tracking with this smartwatch for 24 hours. The watch has built-in optical sensors that monitor the physical parameters like blood pressure, sleeping schedules, oxygen level, stress and upload all the real-time data and details into your mobile phone. Plus, you can monitor up to seven exercising modes.
Along with that, the smartwatch has built-in GPS which keeps you in your right way and helps you explore better.
The best thing about this smartwatch is that it is compatible with all smartphones either your android phone or iPhone. You can just connect it to your phone then it will notify you about messages or social media account notifications.
The better display, multiple modules, and compatibility with all smartphones make this lightweight and handy smartwatch the best of all. It is a must-have product for those who want to get their fitness on track.
What Makes Colmi Stand Out
---
4. Samsung Galaxy Smartwatch
Now, you can go smoothly at your pace anywhere and get everything measured like calorie count, speed, weight, and more.
Samsung Galaxy is another outstanding option for the ones who want to track their daily activity. It is the best waterproof smartwatch under 200, and wearing it you can dive and swim up to 50m deep which is just amazing.
The feature which stands out the best in its "wireless charging" doesn't need you to stick with a socket and charge your smartwatch. The charging duration is also prolonged so the price is really worth it.
Before featuring the internal specifications, we must quote the physical appearance of this Samsung galaxy watch. It is constructed in an analog design and gives a very classical yet new design. It comes in black and silver color frames which are very aesthetic and decent colors suitable for any age.
The smartwatch features 4 GB internal storage so that you can store your favorite media files in it.
For fitness, this wristwear can track exercising activities like a workout, running, or walking. Also, you can connect your smartwatch with any of your iOS and Android phones.
Samsung automatically makes a cutting-edge picture of a product in our mind when we hear that because of the remarkable experience with its service. Specs-wise this Samsung galaxy smartwatch is worth buying to track your daily routine.
What Makes Galaxy Stand Out
---
5. Casio G-Shock GBA400-4A Watch
Casio G-Shock comes with extravagant features and functionalities. Having the ability to resist shock and water and a built-in stopwatch, this watch is super useful for any outdoor sports.
You may find a G Shock odd in the category of best waterproof smartwatches or you may have not heard of this product before but we are providing the details in reference to it after which you will feel is worthy.
This wristwear is categorized as a smartwatch because it connects with your smartphone and tracks your physical activities too. You can enjoy music and more by linking it with your mobile via Bluetooth.
This item is constructed with premium quality resin material which is shock-resistant and, of course, water-resistant up to 200 m making it one of the most durable products in this category.
The glass on the display will not break while you are working or performing some physical activities because it is designed to cope with heavy-duty use.
The stopwatch is able to track the physical body parameters like blood pressure, stress level, steps taken or distance covered, pace, etc.
Moreover, you will be notified if the watch's battery is running low. This would help you keeping facilitating with this smartwatch.
What makes Casio G shock great is its durable construction and the feature of world time which displays the time frame of different cities simultaneously.
What Makes G-Shock Stand Out
---
6. Garmin Instinct Solar Watch
Garmin Instinct is an attractive multisport practical watch with outstanding battery life. It is designed on U.S military standard 8 10 making it shock, thermal and water-resistant.
This watch has an incredible power glass lens feature that ensures the watch will be topped up when exposed to sunlight. As the name suggests, this beautifully designed waterproof smartwatch is exclusively made by Garmin.
Similarly, Garmin instinct has a 3 axis compass and a barometric altimeter. Multiple global navigation satellite systems such as GPS, GLONASS, and Galileo are more helpful in challenging environments than GPS alone. Likewise, many dedicated features, jumpmaster mode, waypoint projection, dual-position GPS format, and preloaded tactical activities, are included.
Despite this, Garmin switches between daytime and nighttime to view such a screen design that makes it ready by the night vision goggles. For precise tasks, it has a dark stealth mode feature by which it stops storing and sharing your GPS location and disables all types of connectivity and communications.
Along with this, instinct has a dual-position format that helps to sync your location with others by showing both the UTM and MGRS on the same screen. It strictly follows navigation guidelines and calculates the high altitude release points once you have jumped.
Garmin instinct solar tactical is loaded with so many training and navigation features that snakes are a highly demanded watch in the market. The outstanding battery span and the incredible glass power lens is some of the top-notch features.
Lastly, Garmin helps you keep records of your health, wellness, swinging activity, running activity, and pulse ox. Do note that it is not a medical device, so it is not intended for use in the diagnosis of any medical condition.
In short, Garmin is beautifully designed for the ones that are very passionate about sports watches.
What Makes Garmin Instinct Stand Out
---
7. Apple Watch Series 6
If you are finding a traditional wristwear product instead of a sporty smartwatch then this new Apple watch series 6 is your go-to watch.
Apple series 6 comprises all good features which may lack in other smartwatches manufactured by Apple.
Considering the design, we must say that this is a large-sized smartwatch which means that there is more space to display swim data in the pool.
This product covers multiple numeric including speed, distance, lengths, pace, and stroke styles, as well. All these features are displayed on the touchscreen and you can also add or replace the viewed data as per your choice. When the device is in water, the touch screen becomes inactive but the display mode remains on so you can check the real-time fitness progress.
We are happy to mention that Apple series 6 offered high accuracy against its market competitors and high-end Garmin products, too.
In the apple activity application, your data would be stored from time to time and you can also avail of Apple watch swimming applications for further analysis.
This branded Apple smartwatch is not just covering the sporters but the common audience, too. It offers a range of specifications which are down towards your fitness and health.
What Makes Series 6 Stand Out
---
8. Garmin Vivoactive 3
A versatile and stylish waterproof smartwatch by Garmin having built-in GPS, heart rate monitor, fitness tracker, stress level measurement, and more. Unlock your fitness tracking desires with Vivoactive 3.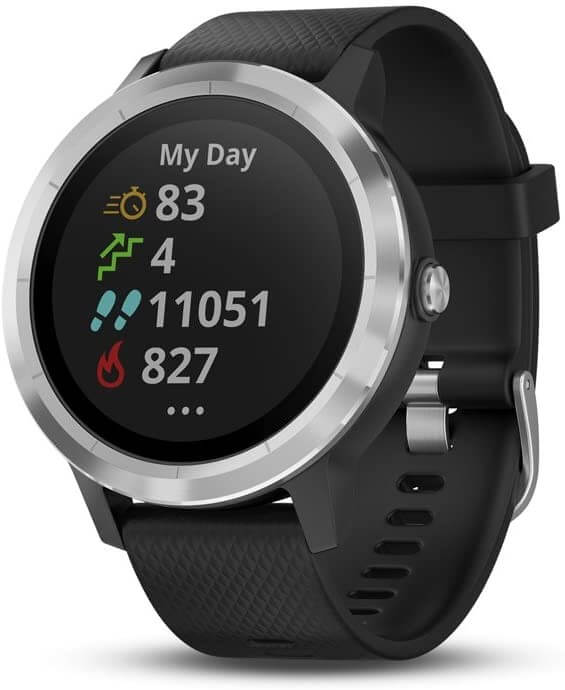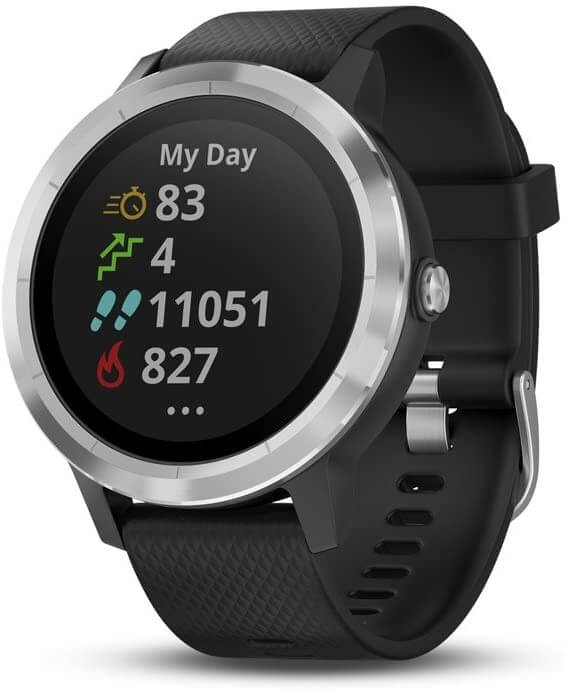 In the context of smartwatches, we must say that Garmin accounts for the best wrist-worn products in the market. The Garmin Vivo active 3 has great material and silver housing; mainly focuses on fitness but there is a lot more to mention which makes it the best.
This versatile model comes with multiple latest features including an in-built GPS which performs a range of functions comprising the heart rate of a person, stress level, pace, covered mileage, and other statistics. You have to select these workouts before from the settings to track.
Garmin also owns their personal application called "Garmin Connect" which offers great features. The smartwatch could connect to the application which offers you to customize your own kind of workout. Then, after getting some data you can compare your fitness level which keeps you on the right route.
If you need the best waterproof smartwatch which focuses on fitness then there is no product better than Vivoactive 3 as it is equipped with a variety of features in connection with the app.
What Makes Vivoactive 3 Stand Out
---
9. Garmin Forerunner 235
The Forerunner is made primarily for fitness guys as it tracks your way with high accuracy. Connect Forerunner 235 with your smartphone and tracks your activities on the go.
Another Garmin recommendation is Forerunner 235 which is also a leading product in the race of best waterproof smartwatches. This is a bit of an older product but we still consider it the best because of its popularity and outstanding performance.
This wristwatch is able to track not only your exercises or workouts but can give you other details like heart rate monitoring, stress level, calorie count, and more. You can also add or skip these parameters as per your personal preferences.
In the module, there are a total of four presets including running, outdoor, cycling, and others which can track the activities on a daily basis. If you have chosen the outdoor activity, then it will enable the built-in GPS to track your location.
Along with that, the watch can be connected to your smartphone and automatically sync the data which is considered one of the handy features.
Overall, this smartwatch is an excellent choice for those who are seeking a product that is highly geared towards health and fitness.
What Makes Forerunner 235 Stand Out
---
10. Fitbit Versa Smart Watch
A great waterproof smartwatch that resists water to 50 meters depth. Offers various exercise presets which are great for tracking every minimal of your activity and help you in gaining ultimate fitness.
The Versa Smartwatch by Fit Bit is another best product in this category, and also the cheapest one which is one of the reasons behind its popularity.
This smartwatch tracks you 24/7 by noting down your sleep patterns, steps, exercise schedules, heartbeat stress, and more.
Along with that, there is built-in storage that stores your favorite music collection so that you won't get bored anytime. You can store approximately 300 songs in your watch and also download them from a catalog that has 500 songs.
The Fitbit not only helps you gain your fitness but the style too. This wristwatch looks classic and slim as compared to other wrist wears. It is a lightweight product that makes it easy to carry all day long. We really appreciate the appealing design of this product and the 38.6 mm display which is bigger than other competitors.
Overall, this slim and beautiful wristwear offers up to fifteen exercising modes and a range of health options for everyone and more at a very affordable price.
So why go heavy on your pocket when you have such a great option in the market!
What Makes Fitbit Versa Stand Out
---
FAQs
---
Conclusion
Any of the aforementioned waterproof smartwatches will be best in an opinion so we have mentioned the details along with strengths and weaknesses. Some of these offer value for money and the rest are better in functioning but a bit expensive. All of these are worth buying in their ways and are able to replace your phone.
From the list here are the three top picks with the reason which make these stands out of all:
COLMI Smart Watch because it is stylish and displays the visuals in HD. It has a long battery and offers a range of exercising modes.
Apple Watch Series 6 because it provides highly accurate and precise data regarding fitness and health parameters.
Garmin Vivoactive 3 because it is a versatile product that comes with a great working GPS and more exciting features.
In the end, we must say that Garmin products are all-rounders and versatile in nature. These can be suitable for everyone. However, the rest are also game-changers.
You can choose one on your personal choice keeping the functions and price in your mind.
---
Recent Posts:
---
---
---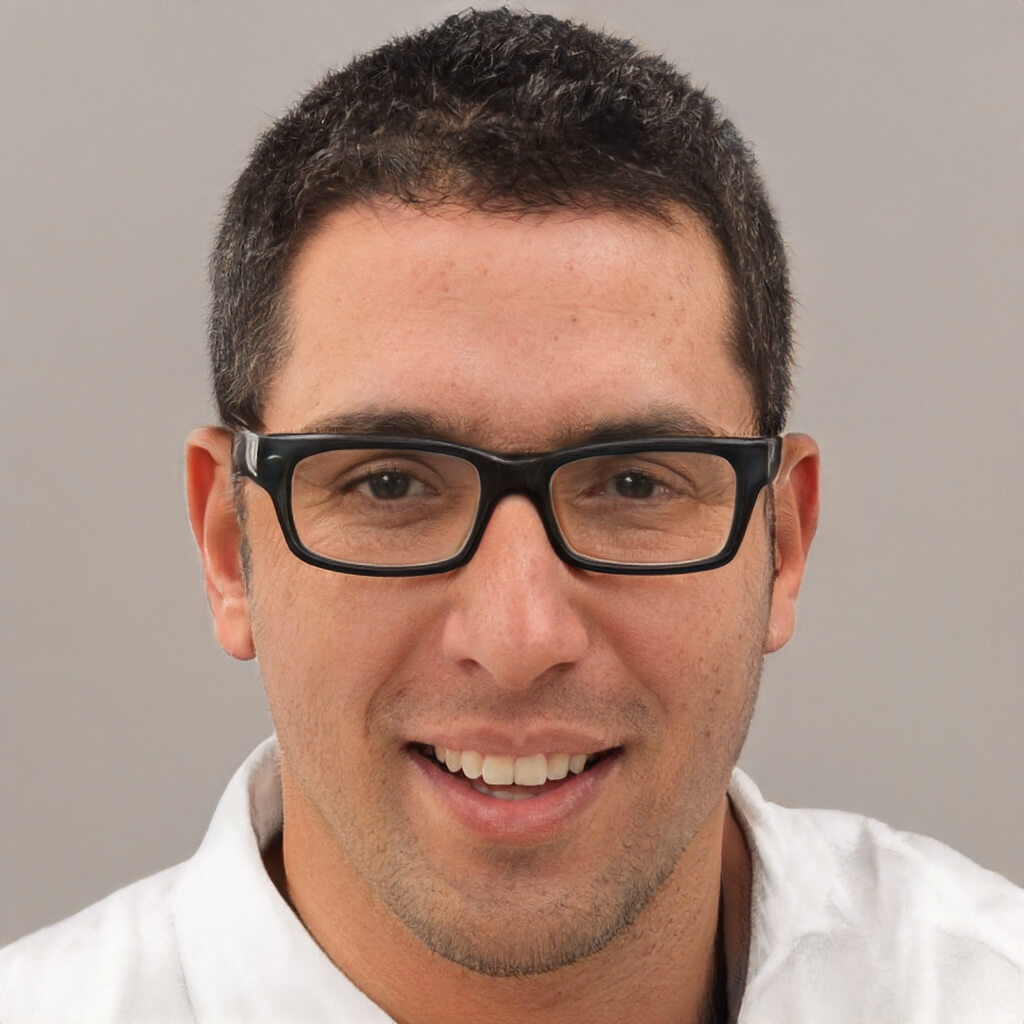 Eric Jordan
Writer | Triathlete
A writer by passion and a triathlete coach profession. In his free time, he swims, runs, cycles, and helps newbie athletes to achieve their goals.